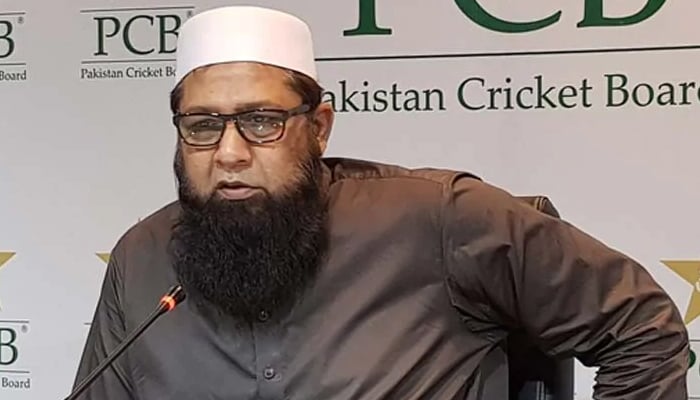 Former captain Inzamam-ul-Haq is unimpressed with the Pakistan Cricket Board (PCB)'s data-driven selection policy.
It must be noted that the new selection committee, which was revealed by the PCB on Sunday, will include Chief Selector Haroon Rasheed, Team Director Mickey Arthur, Head Coach Grant Bradburn and Hassan Cheema, who will serve as the committee secretary and manager analytics and team strategy for national men's side.
"I have my reservations regarding the new selection committee and a lot of people in cricket circles feel the same way. If they had included cricketers, who would go to the ground and watch players perform, then it would have been better," Inzamam said in a media interaction on Tuesday.
"I have never heard about data-based selection, nor is it possible anywhere. Selection should be done based on performances in the ground. Whatever cricket knowledge I have, I don't think it is a good step," he added.
Cheema has previously worked as strategy manager for Pakistan Super League (PSL) franchise Islamabad United.
Rasheed featured in 23 Tests and 12 ODIs from 1977 to 1983 and was also the chief selector in 2015-16.
Arthur is part of the coaching staff for the ICC Men's Cricket World Cup 2023, away tour to Australia and home series against the West Indies. He will also be present with the side for Pakistan's matches against India in the ACC Asia Cup.
During his time from 2016 to 2019, Arthur coached Pakistan to No.1 in Tests and T20Is, and also helped the side to win the ICC Champions Trophy 2017.
The PCB also confirmed the appointment of Grant Bradburn as head coach of the national men's side on Saturday for a period of two years last week.
Bradburn also served as the head coach, on consultancy basis, of the Pakistan team during the recently-concluded home series against New Zealand.
The first task of the selection committee will be to name the players for the fast and spin bowling camps next month in Lahore, which will be announced in due course.