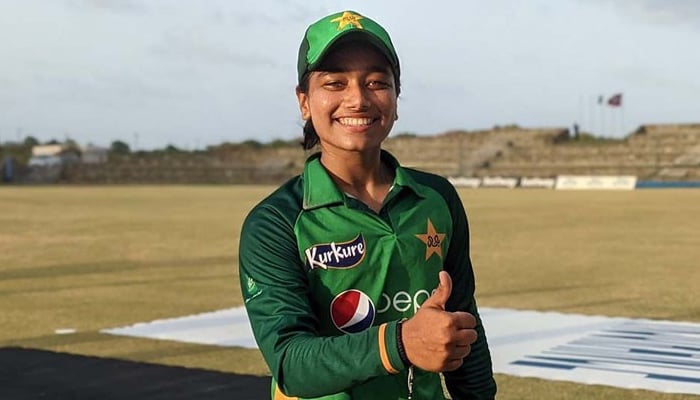 The Pakistan Cricket Board (PCB) has appointed Fatima Sana as captain for the upcoming ACC Emerging Women's T20 Asia Cup, which will be held in Hong Kong next month.
The national women's selection committee also named a 14-player squad for the eight-team event that will be played from June 12-21
"It is an honour for me to captain Pakistan in the upcoming tournament. The responsibility of leading the emerging side will definitely help me develop as a cricketer and I am eagerly looking forward to leading my team in this important tournament. These players are full of energy and are excited for the opportunity ahead of them," said Sana.
"We have had good practice over the last few weeks, and the Pakistan Cup Women's Cricket Tournament provided us ample match practice against tough sides. Ahead of these matches, we had a healthy discussion as a team amongst ourselves that we have to make the most of these matches, and I am glad how every player stepped up and contributed in each game," she added.
Pakistan are placed in Group A with Hong Kong, India A and Thailand A.
"I want to congratulate all players who have been selected for the emerging Asia Cup and I am hopeful that they will perform to their full potential. We have some outstanding talent coming up and it was a tough call to select 14 players. I want to tell those cricketers who have not been selected for this tournament to keep their heads high and keep working hard and they will definitely get chances in the upcoming events," chief selector Saleem Jaffar said.
"We have been observing these players since the camp in Multan and we have tested them in different conditions, with their most recent challenge being the three T20 matches against our top international players.
"Fatima Sana has displayed some outstanding leadership credentials in domestic tournaments recently, and I am sure she will lead this side with example."
Pakistan squad:
Fatima Sana (c), Anoosha Nasir, Eyman Fatima, Gull Feroza, Gulrukh, Lubna Behram, Najiha Alvi (wk), Natalia Parvaiz, Sadaf Shamas, Shawaal Zulfiqar, Syeda Aroob Shah, Tuba Hassan, Umm-e-Hani and Yusra Amir.
Reserves: Amber Kainat, Dua Majid, Fatima Khan and Rameen Shamim
Pakistan's schedule:
June 13 - Pakistan vs Thailand A
June 15 - Pakistan vs Hong Kong
June 17 – Pakistan vs India A