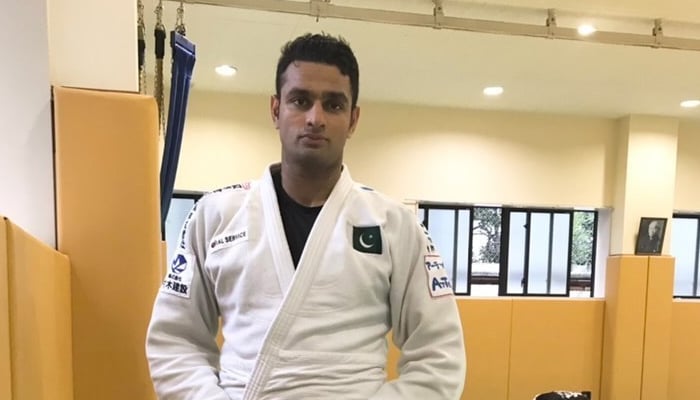 KARACHI: Tokyo-based two-time Olympian Shah Hussain on Tuesday clinched the open weight category gold in the judo competitions of the 34th National Games in Quetta. 
Shah downed Ali Zar of Higher Education Commission (HEC) in the final to snare gold for his department Army.
Earlier Shah, also the 2014 Commonwealth Games silver medallist and 2022 Birmingham Commonwealth Games bronze medallist, took a bright start to his journey when he downed South Asian gold medallist Hamid Ali of Navy in his first fight via Ippon. He then whacked Hafeezullah of WAPDA by full point (Ippon) to make it to the semi-final. In the semi-final he defeated Sabir Shah Afridi of Khyber Pakhtunkhwa to make it to the final which he won with an enviable ease.
Ali Zar got silver while Sabir Shah Afridi and Farooq Umar of Railways claimed bronze medals. Meanwhile, in the women's open weight category, Fauzia Yasir of WAPDA got gold, Asma Rani of Army claimed silver while Asma of Police and Ayesha of Balochistan claimed bronze medals.
In the women's -40kg, Nasima of Army clinched gold, Mishal Wasim of HEC captured silver while Aleema of Balochistan clinched bronze medal. Meanwhile, in karate competitions Army claimed the men's team kata gold. Army's crew comprised Saifullah, Irshad Ali and Waheedullah.
Punjab, featuring Mohammad Kaif, Rohan Naved and Dilawar Ali, claimed silver while WAPDA and Balochiatan teams finished with bronze medals. WAPDA's crew consisted of Mohammad Shehbaz, Shahbaz Ahmad and Gul Zaman while Balochiatan's crew had Shahram Hussain, Zulfiqar Ali and Mohammad Bashir.
In the men's individual kata, Saifullah of Army won gold, Mohammad Shehbaz of WAPDA snared silver while Shahram Hussain of Balochistan and Mohammad Kaif of Punjab clinched bronze medals.
In the women's team kata, Army's crew, carrying Aiman, Nazain and Hadisa, got gold; WAPDA, featuring Shahida, Naz Gul and Iqra, captured silver; while Balochistan, featuring Shakira, Hadia and Farishta, claimed bronze. The other bronze was won by Higher Education Commission (HEC) which featured Sumaiya, Lubna and Samra.
In the women's individual kata, Shahida of WAPDA claimed gold, Farishta of Army secured silver while Naz Bano of Railways and Shakira of Balochistan claimed bronze medals.
As per latest medals position till filing of the story Army were leading with 65 gold, 38 silver and 23 bronze. WAPDA were second with 26 gold, 29 silvers and 24 bronze. Navy were third with 25 gold, 24 silvers and 29 bronze medals.
The wushu competitions will begin on Wednesday (today) at the Ibrar Hussain Hall Ayub Sports Complex, Quetta.
A senior official of Pakistan Wushu Federation (PWF) told 'The News' that men will compete in eight weight categories while women will flex their muscles in six weight categories. In Taolu both boys and girls will compete in four weight categories.
As many 160 fighters from different participating units are set to feature in the competitions. On Tuesday draws were held at the Ayub Stadium during managers meeting. Wushu is one of the richest martial art and it is an opportunity for the top fighters to impress and confirm their seats in Pakistan's Asian Games squad.
The table tennis managers meeting will also be held at Ayub Stadium on Wednesday. A source in the Pakistan Table Tennis Federation (PTTF) told 'The News' while on way to Quetta that Islamabad team's participation is doubtful.
"I cannot confirm but I have heard that due to financial issues Islamabad is likely to skip the event," the source said. On Tuesday the management committee for athletics held a meeting and discussed various matters regarding the event.
A senior official of the management committee told this correspondent from Quetta that managers meeting will be held on Wednesday (today) and the competitions will begin from Thursday (tomorrow).
Wapda win two more rowing gold Wapda women scooped up two more gold medals in the Machine Rowing event of the 34th National Games underway here at the Hamidi Hall Tuesday.
Wapda won their first gold of the day in the women-4 (2000m) with Army and HEC taking silver and bronze, respectively. In the women's 2X category, Wapda women left Army behind to the second place with HEC getting third place. Army came roaring back in the men's event in the men's 2X category winning gold ahead of Wapda. Navy bagged bronze medal.