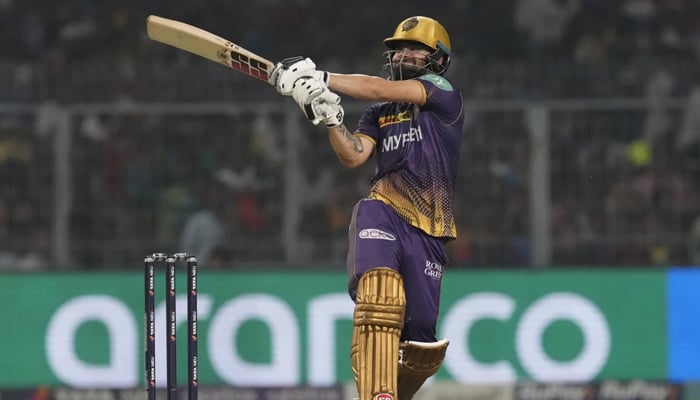 Rinku Singh has impressed one and all in the ongoing Indian Premier League (IPL) with his batting heroics but he still not thinking about being called up for the Indian team.
After four years of below-par performances in the IPL, the 25-year-old has accumulated 474 runs for the Kolkata Knight Riders with four fifties this season.
He came in the limelight after smashing five sixes off five deliveries to chase down a massive target set by the Gujarat Titans last month.
"It feels really good when you have this kind of season but I'm not thinking about selection for the Indian team. I will go home, stick to my routine and continue to practice," the uncapped Rinku told reporters.
"The name and fame will be there, but I'll just stick to my work... My family members are very happy. A lot of things have worked well.
"After I hit those five sixes I started getting a lot of respect from the people and now a lot of people recognise me. So it feels good."
Despite failing to qualify for the playoffs for a second straight year, Rinku was one of the brightest spots of the season for Kolkata.
"I think it feels like all 14 matches I've spoken about Rinku. I am personally very happy for him, the way the season has gone for him," Kolkata skipper Nitish Rana said.
"He's quite close to me and I know how much hard work he has done. I don't really have words to describe him because the entire country knows what he has done.
"If he can bat in situations like these, he can do anything."
Lucknow Super Kings survived an explosive knock of 67 by Rinku to beat Kolkata by one run and qualify for the Indian Premier League play-offs on Saturday.
Nicholas Pooran´s 58 helped Lucknow post 176-8, a total that was threatened by Rinku, a left-hand batter, who smacked four sixes in his 33-ball knock but Kolkata ended on 175-7.
"First reaction is satisfaction," Lucknow skipper Krunal Pandya said after the win.
"We never gave up, we were put under a lot of pressure but credit to the boys. At one stage, they were 61-1 but I´ve seen it before that at this level, two-three tight overs and we´re in the game."