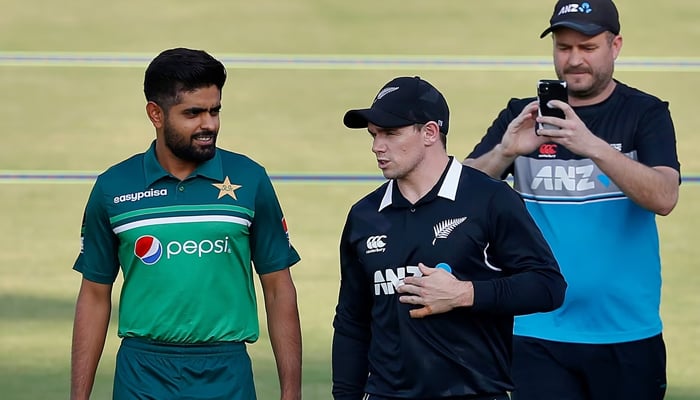 New Zealand Cricket (NZC) are interested in playing a white-ball series against Pakistan early next year.
The series, which will be played in New Zealand, could comprise of five T20Is or three ODI matches, according to sources.
New Zealand have offered to play the series after conclusion of Pakistan's tour of Australia in January 2024. The three-match Test series will conclude on January 7.

The series between Pakistan and New Zealand could begin in the second week of January since the latter has a free window before its home series against South Africa in February. 
The Pakistan Cricket Board (PCB) will discuss the proposal with its stakeholders with the final decision on the tour likely within the next few days. 

Earlier, the chairman of the PCB Management Committee, Najam Sethi, revealed the members of the new selection panel for the national men's side.
While speaking in an interview with BBC Urdu, Sethi said that the committee will include Chief Selector Haroon Rasheed, Team Director Mickey Arthur, Head Coach Grant Bradburn and Data Analyst Hassan Cheema.
"We want to use incorporate data in our selection and Hassan is an expert in this field," Sethi added.
Cheema is currently the strategy manager for Pakistan Super League (PSL) franchise Islamabad United.
Haroon featured in 23 Tests and 12 ODIs from 1977 to 1983 and was also the chief selector in 2015-16.
Arthur is part of the coaching staff for the ICC Men's Cricket World Cup 2023, away tour to Australia and home series against the West Indies. He will also be present with the side for Pakistan's matches against India in the ACC Asia Cup.
During his time from 2016 to 2019, Arthur coached Pakistan to No.1 in Tests and T20Is, and also helped the side to win the ICC Champions Trophy 2017.
The PCB also confirmed the appointment of Grant Bradburn as head coach of the national men's side on Saturday for a period of two years last week.
Bradburn also served as the head coach, on consultancy basis, of the Pakistan team during the recently-concluded home series against New Zealand.