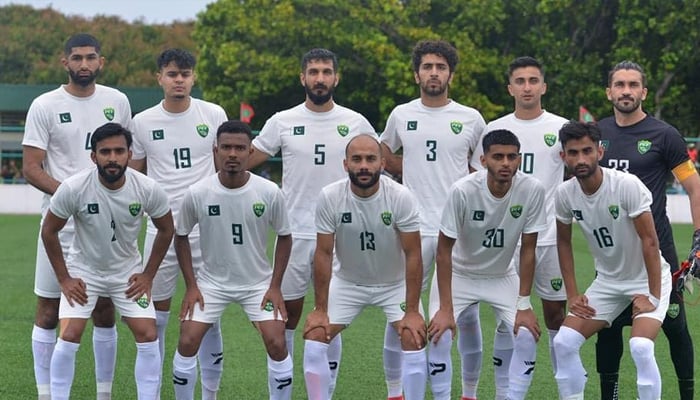 The Pakistan football team is all set to participate in a four-nation tournament in Mauritius from June 8, ahead of the South Asian Football Federation (SAFF) Championship.

The tournament will provide an excellent opportunity for the team to showcase their skills and compete against other nations.
With Mauritius hosting the tournament, along with Kenya and Djibouti as the other participating teams, the competition will start on 8th June and will come to an end on 18th June. The fixtures of the tournament will be shared in due course.
In this regard, the camp for all the necessary preparations will begin in the last week of May. The camp will be aiming at helping the Men in Green to pull their muscles for the international event and prepare well to exhibit their prowess in a better way.
Earlier, arch-rivals Pakistan and India were drawn in the same group of the South Asian Football Federation (SAFF) Championship 2023, set to be played in Bangalore, India next month.
Pakistan and India have been drawn into the Group A of the tournament alongside Kuwait and Nepal.
However, Pakistan's participation in the event is subject to government approval due to security concerns in India.
According to sources, Pakistan Football Federation (PFF) has already written a letter to the government, seeking their permission for participating in the tournament.
Meanwhile, PFF is preparing to attend the event and they are hoping to get the government's approval. It is the regional federation's responsibility to get the team visas to India, sources said.
In the SAFF Championship, Pakistan will meet India for the first time in five years. The two teams last played each other in the 2018 SAFF Championship semi-finals, where India won 3-1.
Pakistan is re-joining the SAFF fold after missing out on two of the 13 tournaments that have been played since 1993. Due to internal problems, the PFF was unable to send their team to the 2015 tournament in India. Due to their FIFA suspension, the nation missed the 2021 edition. Last year, the ban was removed.