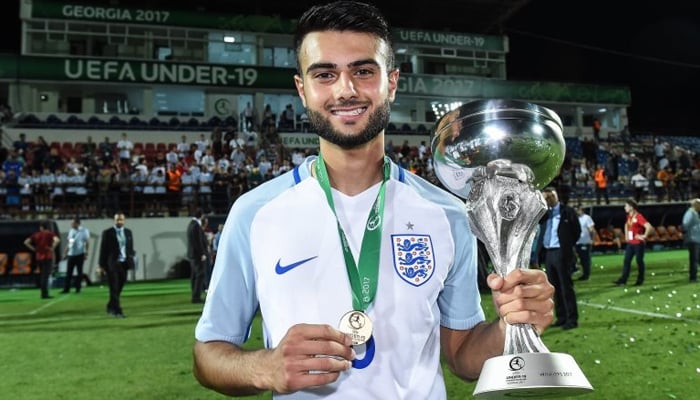 Former England U20 centre-back Easah Suliman is eligible to play for Pakistan after FIFA approved the request from Pakistan Football Federation (PFF) to change his national eligibility from England on Thursday.
The 25-year-old currently plays for UD Vilafranquense, which is in the second tier of the Portuguese football league system, while being on loan from Vitoria Guimaraes SC.
"FIFA has approved a request by the Pakistan Football Federation to change Easah Suliman's national eligibility from England," the PFF said on its official Twitter account.
"The former England U20 player will now be representing Pakistan in the upcoming events," it added.
According to Transfer Markt, Suliman's current market value is €350k and he can also play as a right-back and defensive midfielder.
He has made 142 appearances in club football, which includes two goals and one assist.
Suliman also won the European U19 Championship with the England team in 2017.
Earlier, the Normalisation Committee (NC) of the PFF was warned against unnecessary delay in holding the federation's elections as the National Assembly Standing Committee on Inter-Provincial Coordination (IPC) members were unanimous that everything has been done deliberately and with the purpose to stay long at the helm of affairs.
Haroon Malik, chairman of the NC, retracted from his earlier statement given two months back, now maintaining that there is no club in the country that comes up to the conditions of the FIFA Connect programme. A few months ago he had told Minister for IPC Ehsanur Rehman Mazari during his commitment that there were 40 clubs fulfilling the requirements.
"Now you say there is no club. At the time when you gave your commitment to the ministry that the election process will start from May 15, you said that there were 40 clubs fulfilling the requirements. So your statements are changing with each passing day. Are you serious about holding the elections or having some other motives," Mazari said during the NA Committee meeting.
Haroon was grilled by the NA body members and even chairman Nawab Sher Waseer warned him against making one promise or other every time he appears before the committee.
"We would be having no other option but to write to the concerned higher authorities in Pakistan as well as FIFA to look into the gross negligence being made by the NC. We respect the FIFA but at the same time would like to make the PFF an elected body. The NC is not serious at all in conducting the much-awaited elections," Waseer said.