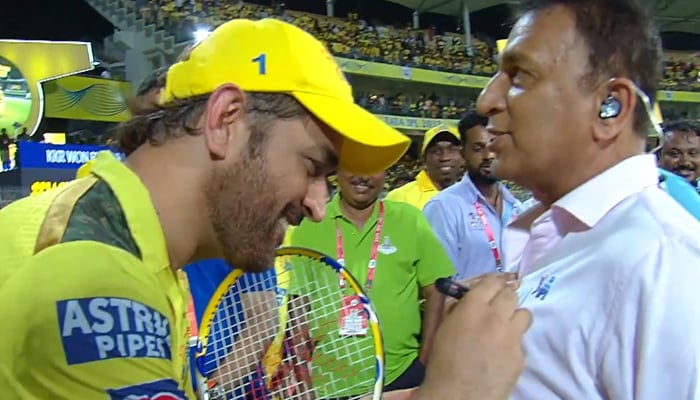 Former Indian Test cricketer Sunil Gavaskar rushed to Chennai Super Kings' (CSK) captain MS Dhoni to take his autograph after they were beaten by Kolkata Knight Riders (KKR) in 61st match of the ongoing Indian Premier League (IPL) season 16. 
Dhoni and his men were taking a lap of honour for their fans in Chennai as the last group stage game of the IPL 16 was played there on May 14. Dhoni might retire from cricket after this year's IPL, hence he took a round of the ground to thank his fans for their support. 
Meanwhile, Gavaskar, who was doing the post-match show with fellow commentator Kevin Pietersen and presenter Neroli Meadows, rushed to Dhoni to take his autograph. 
"Who wouldn't want his autograph?" said Gavaskar. "I mean what he has done for Indian cricket over the years is amazing. For me, it is important that what a role model he has been. A lot of youngsters look up to him and it's fantastic to watch," the legendary cricketer added. 
Fans were too happy to see two legends giving respect to each other. 
Dhoni is one of the finest captains Indian cricket has ever produced. Under his captaincy, India won ICC T20 World Cup's inaugural edition in 2007, ICC World Cup in 2011 and ICC Champions Trophy in 2013. 

CSK won all of their IPL titles under the captaincy of Dhoni. They won the cash-rich league in 2010, 2011, 2018, and 2021. 
A lot of young Indian players were groomed by Dhoni in his captaincy era. The world's finest batter Virat Kohli was polished under the leadership of the wicketkeeper batter.