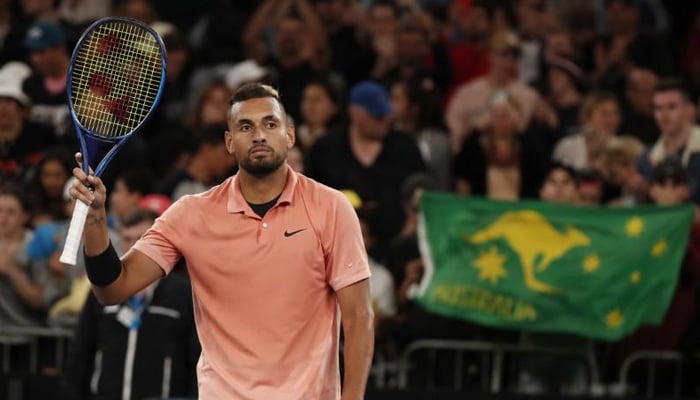 The Australian tennis star Nick Kyrgios has withdrawn from the upcoming French Open 2023 due to a knee injury.
The 27-year-old underwent knee surgery in January and missed all three ATP 1000 clay-court events in the lead-up to his Roland Garros withdrawal.
"It's not looking likely. We are trying everything we can to have Nick ready on the court as soon as possible," his agent Daniel Horsfall had said earlier on Tuesday before the news was confirmed that he had withdrawn from the entry list.
The last time Nick appeared at Roland Garros was in 2017. Before that, he made five consecutive appearances at the tournament from 2013-2017.
In December, the Australian repeated once again that his intention was to play the French Open in 2023 as he promised his girlfriend Costeen Hatzi that he would take her to Paris.
"Yes, I'm playing the French Open. My girlfriend wants to see Paris, so why not? Pick up some more money (in Paris). I've played well on clay, I've beaten (Roger) Federer, (Stan) Wawrinka, and I've played a final on clay (in Estoril in 2015)," Kyrgios said in December. 
After a great 2022 season, Kyrgios sustained an unfortunate knee injury just before the start of the 2023 season.
"But usually at that time of year I like spending time at home. Because if I don't, then I'm travelling for eight months a year. It's too much. But she likes Paris so why not?"
The Australian had a stellar 2022 season, reaching his first Grand Slam final on the grass courts of England.
The 28-year-old has not played a single game in 2023 after undergoing knee surgery. He also had to withdraw from the Australian Open in January.
Nick came into the limelight as a 19-year-old in 2014, when he shocked the tennis world by beating Rafael Nadal to reach the quarter-finals of Wimbledon.
The Spaniard Rafael Nadal is also looking forward to making an appearance at the French Open after already missing major tournaments at Indian Wells, Miami, Monte Carlo, Barcelona and Madrid.