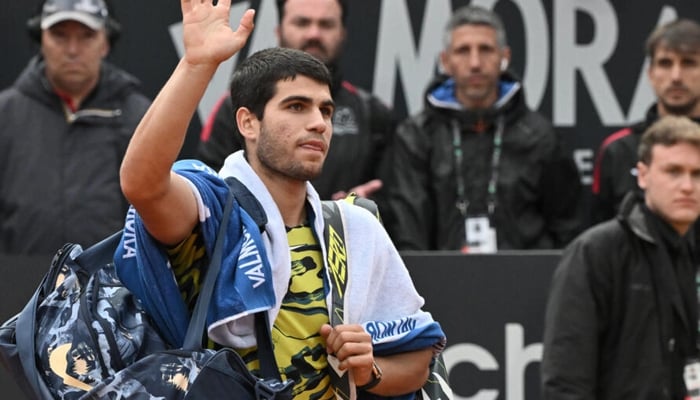 Carlos Alcaraz has opened up after being stunned by Hungarian qualifier Fabian Marozsan at the Italian Open on Monday.
Alcaraz has been in great form this season after winning titles in Buenos Aires, Barcelona and Madrid ahead of the event in Rome.
The Spaniard, who is set to be the number one seed at the Roland Garros, suffered his second defeat on clay against world number 135 Marozsan.
"I was perfect physically. I just didn't feel comfortable," Alcaraz told reporters. "He made me feel uncomfortable on court. He was aggressive all the time.
"It was tough for me to get into the match, into the rally. I made a lot of mistakes that I usually don't make. Obviously, these days can happen and you have to handle it.
"In the second set I was close, I had my chances but didn't take them. He was at the same level all the time. He deserves the win."
Alcaraz is also looking for some time off before the French Open, which starts on May 28.
"I'm going to rest a little bit. I need some days to reset my mind, to be fresh for Roland Garros," Alcaraz said.
"Of course, to practice. That's no secret. If I want to have good results in Paris, if I want to go to Paris in good shape, I have to practice.
"I couldn't practice more than three or four days in a row. I've been playing so much. It's going to be really helpful to have days at home practising and getting ready."
Marozsan, who will face Borna Coric for a spot in the quarter-finals, had not won a match on the ATP Tour before this tournament. He smashed 24 winners during the match.
"Everything was perfect today, I was doing my job," the winner said. "I cannot imagine this win, even if it was my dream last night.
"I thought I might win a few games or a set."