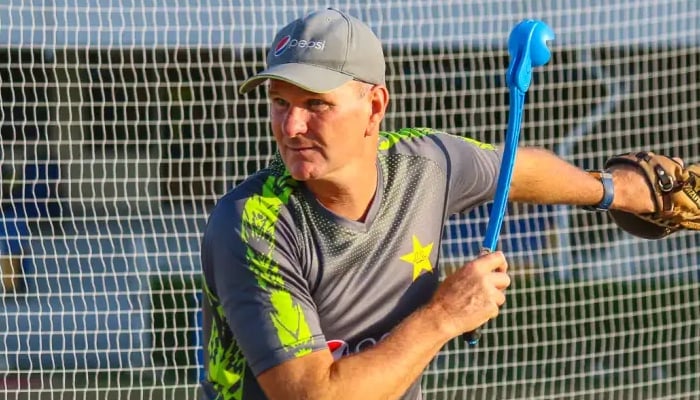 The Pakistan Cricket Board (PCB) confirmed the appointment of Grant Bradburn as head coach of the national men's side on Saturday for a period of two years.
Bradburn also served as the head coach, on consultancy basis, of the Pakistan team during the recently-concluded home series against New Zealand.
"It is a great honour for me to work with the highly talented and skilful side like Pakistan as a head coach. We have been working hard on our raising our game and are eager to showcase our growing skills. Mickey Arthur and I are excited to support, challenge and develop our players. The New Zealand series has been valuable to get game time and create clarity of roles, culture and brand to win," Bradburn was quoted as saying in a press release issued by the PCB.
"We have raised the bar of expectation and we will keep challenging our players. The process has started and our players are agreeing to take these challenges head-on. ODI cricket has evolved and our agreed expectations are aligned to being the best in the world. We have mutually agreed with our players they are capable of higher team scores, even when setting totals. There has been immediate positive signs during this series and this group of players is determined to continually improve, to put ourselves into contention to win major events," he added.
Bradburn has also worked as the fielding coach of the Pakistan team from 2018 till 2020 before joining the National Cricket Academy to concentrate on the coaches development.
"I am delighted to name Grant Bradburn as the head coach of our men's side. Bradburn joins the side with plethora of coaching experience. After having worked with our men's side before and at the National Cricket Academy, he understands our culture and philosophy of cricket well and is an ideal candidate to take our team forward," PCB Management Committee Chairman Najam Sethi said.
"After the announcement of Mickey Arthur as team director, Bradburn's appointment is another step in our endeavours of putting together a highly qualified coaching panel so our players can benefit from their experiences and dominate world cricket in all three formats," he added.
The PCB also announced that former South Africa cricketer Andrew Puttick has signed a two-year contract as the batting coach, meanwhile strength and conditioning coach Drikus Saaiman and physiotherapist Cliffe Deacon will continue to work in their roles.