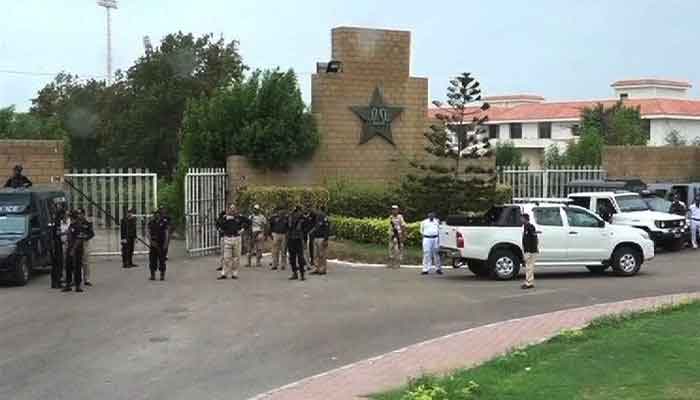 KARACHI: Unprecedented security arrangements were made for the Pakistan Super League (PSL) final held here at the National Stadium on Sunday.
All routes leading to the stadium had been completely sealed unlike the last few days because of the arrival of the VVIPs also including the Army chief. Large number of Rangers and police personnel had been deployed everywhere in general and at key points in particular. Even the various routes of the residential areas leading towards different points were blocked by putting heavy containers.
The thick security arrangements created huge problem for the residents of the areas located around the venue. This correspondent saw a few women toiling hard under the scorching sun to reach their destinations in the afternoon, while walking on foot at Karsaz Road leading towards Aga Khan Hospital and Hassan Square.
"You know it has been painful for us to go a long way on foot as the entry point at Karsaz leading towards Hassan Square has been sealed,' a woman , accompanied by a little son, told this correspondent.
The women were seen taking some rest under the shade of trees due to fatigue while heading towards their destinations. A woman of the residential area of KDA scheme near hospital specialised for the PIA air crew on Karsaz Road was seen questioning police deployed that how would they go out for purchasing daily commodities from market if heavy containers are placed in their way.
"It's a big issue. How will people of our area take their patients to the hospital?" the woman questioned. The flyover near the stadium, which leads from Karsaz Road towards Hassan Square was occupied by a heavy contingent of security personnel. The major points at Dalmiya amd Hassan square had also been sealed. The teams were brought amid water-tight security at 6pm for the final which was scheduled to start at 8pm.
"Today the security was very thick and we had to pass through tough time before reaching the venue," a spectator told 'The News'. Some families were also seen bringing into the stadium by police mobiles. The journalists were also seen being thoroughly checked at various entry points. Their CNICs were also scanned and a "clear" tag was attached to their accreditation cards.