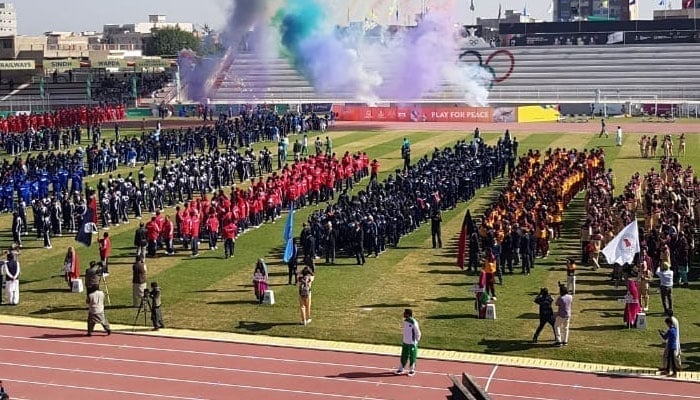 LAHORE: Balochistan's government is making a full-fledged effort to manage the publicity of the 34th National Games which Quetta is set to host from May 22-30.
"Tomorrow we are going to meet with the Secretary Information to discuss how to publicise the Games in a true sense," Balochistan Secretary Sports Ishaq Jamali told 'The News' in an interview on Monday.
"The Secretary Information is in contact with the international channels from Japan and other countries and they will also give coverage to the Games and will run videos and shots.
"Information Department has also engaged bloggers and v-loggers and they will start publicity of the Games from tomorrow. Hope it will be a productive effort and it will help a lot in the propagation of the Games."
He said they also plan to install billboards from Wednesday (tomorrow).
"We are also utilising the social media for publicity of the Games and on Twitter and other social media tools trends are being run. Even on my personal twitter you can see this and there are so many followers. We are making every effort to make the Games a big success," Jamali said. 
"Newspapers and television channels are also giving hype to the Games and on daily basis you can see different news about the event," he added. 
He said that Balochistan Chief Minister will open the National Games while Governor Balochistan will be the chief guest at the closing ceremony. Jamali said some teams have already arrived in Quetta, adding some will start coming in the next few days. 
"Some teams from WAPDA, Army, HEC, Police, PAF and Navy have already reached here while provincial teams will start coming here from Wednesday (tomorrow)," Jamali said.
He said that Quetta is all ready to host the Games. "Tomorrow renovation work on venues will be completed and the facilities will be handed over to the organisers and we are all set to host the Games in a befitting manner," said Jamali.
The competitions will be held in 32 disciplines which include baseball, football, handball, hockey, kabaddi, rugby, softball, tug-of-war, volleyball, badminton, boxing, fencing, gymnastics, archery, athletics, basketball, bodybuilding, cycling, golf, judo, karate, squash, table tennis, taekwondo, tennis, weightlifting, wrestling, wushu, rowing, sailing, shooting and swimming.
Exhibition matches will be held in canoeing and kayak, futsal, throwball and women cricket which has been included for the first time. Hockey competitions will be the first to begin on May 12 at the Nawab Ghous Bakhsh Hockey Stadium, Quetta. The competitions in five sports disciplines will be held outside Balochistan due to lack of infrastructure and other issues.
Rowing will be hosted by Islamabad, sailing will be held in Karachi, Jhelum will host shooting, swimming and cycling will be conducted in Lahore.The torch journey has already begun from Karachi and after passing through various cities it will reach Quetta on May 14.