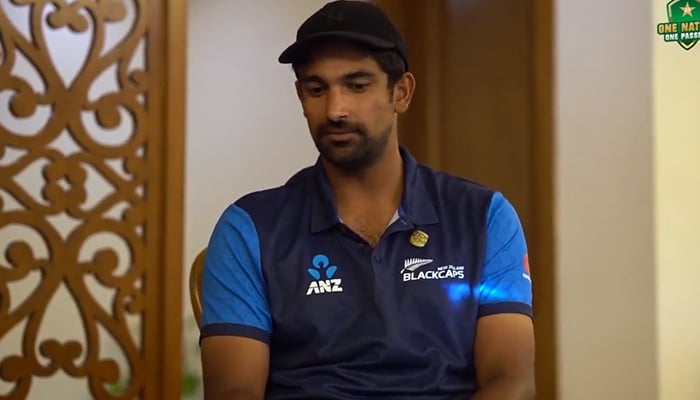 "It is my second tour this year, everything feels so good," said New Zealand's leg-spinner Ish Sodhi while sharing his experience of the recent Pakistan tour.
While discussing Pakistani traditional and street foods, he specifically talked about the famous Shinwari Karahi.

"Fakhar Zaman organised a Shinwari dinner, everyone in the squad especially the Western players enjoyed it the most," the Kiwi's bowler said.
While talking about his home town, he revealed that his mother's family is originally from Lahore. 
"My mother's family is from Lahore, but they migrated to India during the separation," he added.
"Sidhu Moosewala was my favourite singer. I am a big fan of Rap music. I listen to American Rap as well, but Punjabi Rap is just entirely different," he said when asked about his musical interest.
While speaking about his cricketing journey, the 30-year-old leg-spinner said that he started bowling when was 12 and also talked about his inspiration.
"I started doing spin bowling when I was 12. I once met Deepak Patel, he was an off-spinner, I got inspired by him and then I started leg-spin," he said. "I used to search Shane Warn, Anil Kumble and Abdul Qadir on YouTube they all became my inspiration as well."
"I have a 3-year-old daughter, she always keeps me busy, so I never have time for any other sport," Sodhi said when asked if he has an interest in any other sport.
"Our team is very young; they gained some valuable experience here [in Pakistan] and we hope to come back soon. It's been fun, we enjoyed a lot but the tour went so fast," he concluded.
Earlier, New Zealand defeated Pakistan in the 5th and last ODI by 47 runs in Karachi on Sunday to avoid a whitewash against the Green Team.
Pakistan have been dropped down to third position in the updated ICC rankings following their defeat against New Zealand in the last ODI.
Green Shirts, with a current rating of 112, are now ranked third behind second-ranked India and first-ranked Australia with an equal 113 rating points while New Zealand remain in the fifth spot.