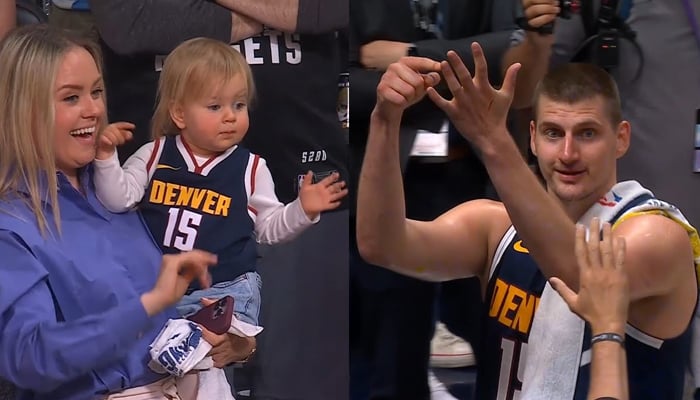 Denver´s reigning two-time NBA MVP Nikola Jokic shared an adorable moment with his daughter after Nuggets staged a fourth-quarter rally to eclipse the Phoenix Suns 97-87 and take a 2-0 series lead.
While walking off the court, Jokic waved towards his wife and daughter, Ognjena, in the stands. During a heartwarming exchange, Jokic's daughter pointed at her ring finger with her father following suit.
It must be noted that Jokic finished with 39 points and was one of the best players in the NBA match.
Devin Booker finished with 35 points for Phoenix while Kevin Durant added 24, but the Suns were unable to respond as Denver pulled away to outscore the visitors 27-14 in the fourth quarter.
Jokic´s 39-point haul included 26 after half-time as the Nuggets took control of a low-scoring contest that saw Phoenix lead by eight points in the third quarter.
Kentavious Caldwell-Pope delivered a crucial cameo for Denver with a flurry of three three-pointers in the fourth quarter, helping to take the game away from Phoenix as the clock ran down.
A gloomy night for Phoenix was compounded by an injury to veteran Chris Paul, who limped to the locker room near the end of the third quarter after appearing to injure his groin.
"Both teams didn´t shoot well, it was a low-scoring game 87-97, it was a tough, rough game — but we won the game and that´s the most important thing," Jokic said.
The victory came as Jokic prepares to discover on Tuesday whether he has won the NBA´s regular season MVP award for a third straight year.
Nuggets coach Michael Malone said Jokic had delivered an MVP-caliber performance to drag Denver over the line.
"Nikola´s an MVP for a reason. He can take over a game. He can beat you in a lot of ways. I love an aggressive Nikola Jokic," Malone said.
The Denver coach said Jokic however was only focused on ending the Nuggets´ wait for a first NBA Championship.
"I know what motivates Nikola Jokic, myself, and the rest of the guys in that locker room — it´s not the MVP," Malone said.
"If he wins it, we´ll be celebrating and very happy for him because it´s a huge accomplishment, three years in a row.
"And if he doesn´t win it I´m going to give him a hug because he´s still the MVP in my eyes."
The series now heads back to Arizona for game three on Friday.
— Additional input from AFP