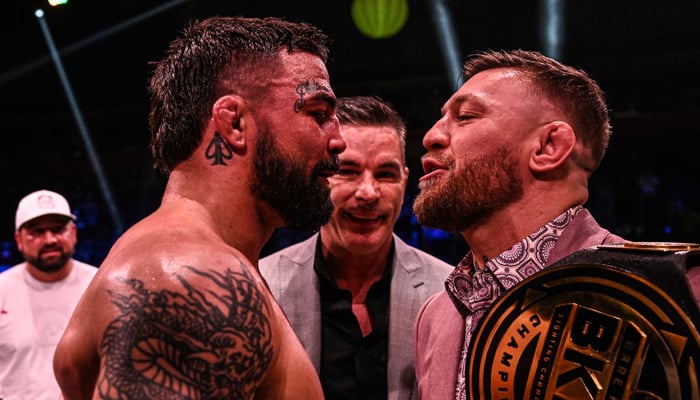 Mike Perry stopped Luke Rockhold inside two rounds during his third appearance in the Bare Knuckle Fighting Championship (BKFC) ring on Sunday.
A series of body shots by Perry forced the referee Dan Miragliotta to stop the BKFC 41 contest at 1:15 in the second round.
Perry improved his record to 3-0 in BKFC with the biggest victory of his career against Rockhold.
Perry also had friendly staredown with UFC superstar Conor McGregor, who was among the audience in Denver. He also spoke about a fight between the duo in the future. 
"What's next for me? Conor McGregor," Perry said at the BKFC 41 post-fight press conference following faceoff with McGregor." He likes to box, too. We can go throw hands. He gave me a faceoff. How cool was that? That's what's up. I'm real humble, to be honest, because I've been fighting a long time. I've been in some ups and downs and some tough fights. Some things didn't go my way. These guys are coming over here and fighting me at what seems to be my best attributes. I've got a chin, I've got some hands and this is bare knuckle. People don't like getting hit with that."

Meanwhile, McGregor lauded the fighters who competed at BKFC 41.

"It's an incredible setup here," McGregor said. "Incredible matchmaking. Incredible storytelling. I had to come here. I flew straight away. I was not going to miss this and it did not disappoint. All these fighters that step in here are warriors and all have my respect."
"I'm into this game," McGregor said while having the BKFC belt on his soulder. "I'd be into this. How am I showing up here and I've already got the belt? Come get it, baby! Come get the strap, baby!"
Perry also took a dig at his former opponent Donald Cerrone, who also watched the fight at the venue.
"[Donald] Cerrone come in here and give me my arm back," Perry said. "Maybe we can fight and then after I beat you, then I'll beat Conor McGregor."
What is BKFC?
"BKFC is the first promotion allowed to hold a legal, sanctioned, and regulated bare knuckle event in the United States since 1889. Based in Philadelphia, and headed by President and former professional boxer David Feldman, BKFC is dedicated to preserving the historical legacy of bare knuckle fighting, while utilising a specifically created rule set that emphasises fighter safety. BKFC will hold all of its bouts in a revolutionary circular four-rope ring, designed to encourage fast-paced and exciting bouts," BKFC says on its official website.
"In BKFC, only those fighters who are established professionals in boxing, MMA, kickboxing, or Muay Thai will be allowed to compete. The referees and judges will also be required to have extensive professional combat sports experience. All fights will be held under the auspices and control of an Athletic Commission," it added.