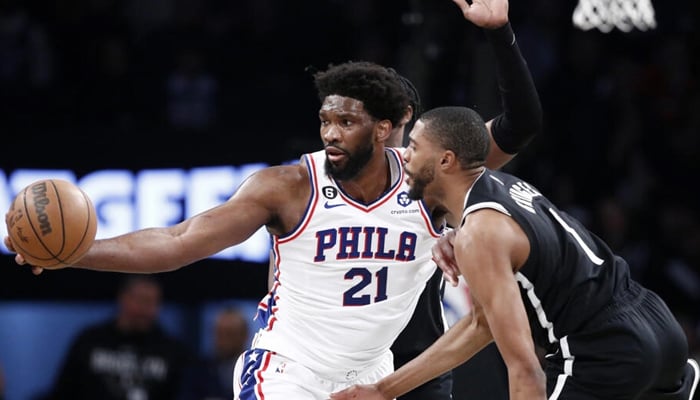 LOS ANGELES: The Philadelphia 76ers pushed the Brooklyn Nets to the brink of elimination on Thursday as the Golden State Warriors clawed back in their NBA playoff series against Sacramento with a 114-97 rout of the Kings.
A rugged clash in Brooklyn featured two ejections and a controversial kick from Joel Embiid, who nevertheless remained in the game.

Philadelphia's MVP candidate scored just 14 points but pulled down 10 rebounds and produced a crucial block with eight seconds remaining that helped the Sixers hang on for a 102-97 victory.
When the dust settled the Sixers had a 3-0 lead in the Eastern Conference first-round series — the Nets well aware that no NBA team has come back from 3-0 down to win a best-of-seven set.
Across the country in San Francisco, the reigning champion Warriors avoided a 3-0 hole despite the absence of star Draymond Green, who was suspended one game for stamping on Sacramento's Domantas Sabonis in game two.
The Warriors, who were 33-8 at home in the regular season, led wire-to-wire, pushing the advantage to as many as 23 points to cut the series deficit to 2-1.
The Phoenix Suns, fueled by Devin Booker's 45 points, were also up 2-1 after a 129-124 victory over the Clippers in Los Angeles.
Stephen Curry led the Warriors with 36 points. Center Kevon Looney pulled down 20 rebounds — including nine offensive boards — winning the battle with Sabonis.
Sabonis scored 15 points and grabbed 16 rebounds for the Kings, who were led by De'Aaron Fox's 26 points.
"Losing both games (in Sacramento) was a tough way to start," said Curry, leader of the Warriors' four-title dynasty but who had never before been down 2-0 in a series.
Curry said the Warriors were stung by Green's suspension but knew "we couldn't change the decision that we knew was wrong.
"But," he added, "if we could come out and win tonight and change the momentum of the series, that gives us an opportunity to make it about basketball."
Embiid controversy
While Curry believes the Warriors have put the Green stamping debate behind them, there will be plenty of discussion around game three of the Sixers-Nets series.
Down by five with 2:15 to play, the Sixers surged home. Tyrese Maxey scored 10 of his 25 points in the fourth quarter, his step-back three-pointer with 44.7 seconds left giving the Sixers a 99-96 lead.
Spencer Dinwiddie cut the deficit by one with a free throw and looked headed for a game-tying layup when Embiid soared up to reject the shot and the Sixers held on.
Nets coach Jacque Vaughn expressed frustration that Embiid was even in the game at that point, marvelling that he wasn't ejected when he aimed a kick from the floor at Nic Claxton's groin as the Nets player stepped over him in the first quarter.
Embiid had hit the deck when he tangled with Claxton as the Nets player threw down an alley-oop dunk.
"For a guy to intentionally kick someone in an area that none of us want to be kicked at or toward, and for him to continue to play — I've never seen that before," Vaughn said.
Sixers star James Harden was tossed late in the third quarter after piling his shoulder and arm into Royce O'Neale's body on a drive to the basket.
And Brooklyn's Claxton was ejected early in the fourth when he picked up a second technical foul for a muscle-flexing taunt of Embiid.
"We stayed together," Embiid said of the key to the hard-fought victory. "We kept playing through everything that was going on."
'Natural reaction'
Harden was steaming at his ejection — for a flagrant 2 foul — over what he insisted was a normal basketball play.
"When somebody's draped over you like that defensively, it's just a natural basketball reaction," he said.
Mikal Bridges led the Nets with 26 points and Dinwiddie added 20, but Brooklyn are in danger of being swept for the second straight season.
Embiid, who went to the locker room briefly in the first quarter and could be seen limping later in the game, said the Sixers need to be better in Saturday's game four — and that he'd be ready.
"I took a lot of shots today, but I'm fine," he said.
In Los Angeles, the Clippers had to make do without star Kawhi Leonard, who was ruled out with a knee sprain as they returned home after splitting the first two games with the Suns in Phoenix.
It was a heavy blow for a team already without injured star Paul George, and even 42 points from Norman Powell and 30 points from Russell Westbrook weren't enough against a Suns team that had 28 points from Kevin Durant.