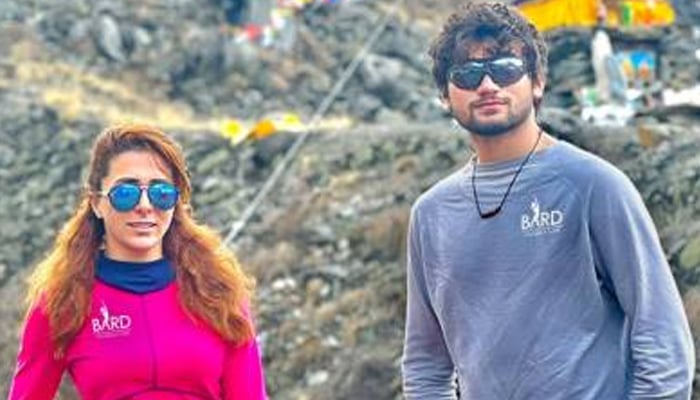 KARACHI: Pakistan's climbers Naila Kiani and Shehroze Kashif were rescued from Mount Annapurna, which stands at 8,091 metres, on Tuesday after bad weather disrupted the duo's descend from the peak.
Naila and Shehroze had scaled the world's 10th-highest mountain in northwest Nepal on Monday.
"The efforts to rescue the two [Naila and Shehroze] mountaineers who were stranded on Annapurna at 7000m have been successful. A helicopter was dispatched from Kathmandu to the higher camps of Annapurna, and the climbers have been safely picked up and taken to Annapurna Base Camp. Thank you to all the friends for their support and assistance in this matter," Karrar Haidry, secretary of the Alpine Club of Pakistan said in a brief statement.
Naila is the first woman from the South Asian country to reach Annapurna's peak, meanwhile Shehroze is the youngest climber to summit 11 out of the world's 14, 8,000-metre mountains. He is aiming to become the youngest to summit all 14 peaks over 8,000 metres.
Earlier, Indian climbers Anurag Maloo and Baljeet Kaur also went missing and efforts are underway to search and rescue them.
It must be noted that on Saturday, Pakistan's Sajid Sadpara added another feather to his cap after summitting Annapurna without using supplementary oxygen.
According to ExplorersWeb, Annapurna is the most dangerous of all the 14 8,000'ers after K2. Its south side is a formidable ice face, while the normal north side route includes large sections exposed to avalanches and falling seracs.
Imagine Nepal's Mingma G had also warned that conditions this season are particularly perilous.
"We had a drought all winter and now it is snowing almost every day. The effect is clear on Annapurna: deep snow, frequent avalanches, and several crevasses," he said.