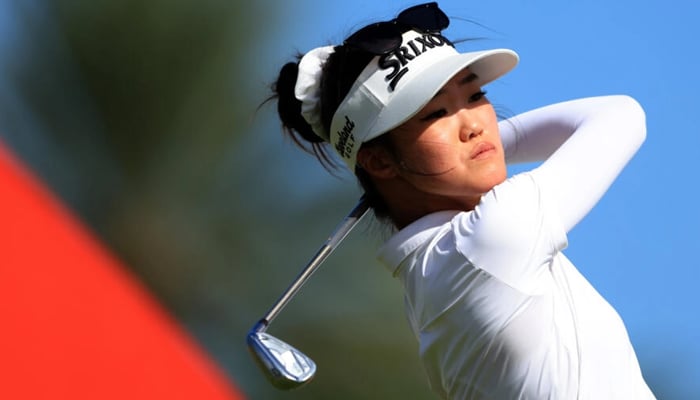 LOS ANGELES: Australia´s Grace Kim won the LPGA´s Lotte Championship on Saturday after triumphing in a three-woman playoff in Oahu, Hawaii to give the 22-year-old her first tour triumph.
China´s Liu Yu held the clubhouse lead on 12-overall 276 but Kim and South Korean Sung Yu-Jin both joined her at the top of the leaderboard after 18 holes after making birdies on the final hole to force the playoff.
The trio went to the par-5, first hole for the sudden death playoff and while Liu made par and Sung bogeyed, Kim produced a birdie for the victory.
Kim, who has picked up five wins on the WPGA Tour of Australasia, was playing just her third event on the LPGA Tour.
The Australian birdied the final two holes to card a four-under 68 and then in the playoff took a 3-wood for her second shot, which fizzed over the water to the edge of the green.
"I think just the birdie on 17 was definitely the big momentum changer. I am just kind of speechless right now," she said.
"I will let you know that my second shot on that playoff hole, that wasn´t intentional. I kind of got lucky there. I guess it was a good day after all," she said, admitting she had pushed her shot right.
"I think I have done well mentally this week and that paid off for me," she added.
Liu, yet to win on the LPGA Tour, produced the round of the day with a bogey-free eight-under 64 at the Hoakalei Country Club after starting the day five shots off the lead.
She got off to a flying start with four birdies in the opening five holes but said she hadn´t felt under any pressure to attack.
She had a long wait for the playoff as the clubhouse leader before losing out in the decider.
"It was a bit unexpected to be honest. I felt pretty over-achieved today. If I knew starting off the day I knew I would end up in a playoff I would be definitely very happy," she said.
Taiwan´s Chien Pei-Yun and Sweden´s Linnea Strom both finished just a stroke behind the leading trio.
American Lauren Hartlage, Thailand´s Natthakritta Vongtaveelap and England´s Georgia Hall all finished tied for sixth place, three strokes back of the leaders.