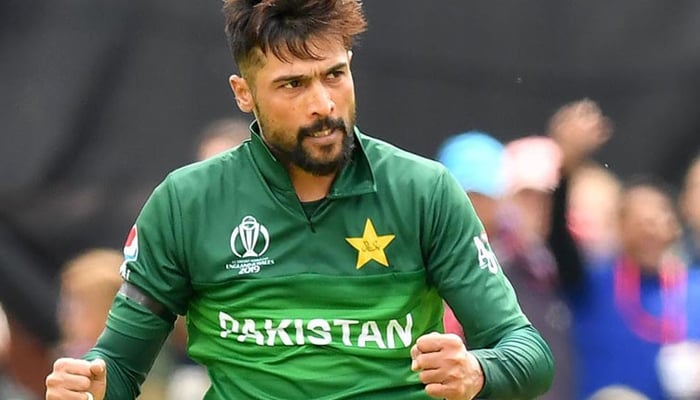 Left-arm pacer Mohammad Amir is expected to come out of retirement in international cricket in near future. 
According to reports, Amir, who took retirement in 2020 citing issues with the then team management led by Misbah-ul-Haq, has been told to get ready for international cricket. 
Reports claimed that the Pakistan team's selection committee has contacted Amir's manager and asked him to direct the cricketer to not make unnecessary statements in the media. The cricketer has also got hints to play this year's ICC World Cup which is scheduled for October-November in India. 
Amir had represented Pakistan in 36 Tests, 61 ODIs, and 50 T20Is. He last played an international match in 2020. The pacer was also part of the Pakistan team when they won ICC T20 World Cup 2009 and ICC Champions Trophy 2017. 
His Champions Trophy 2017 final spell earned Pakistan their maiden title in an eight-team tournament. 
The 18-year-old, his new-ball partner Mohammad Asif and former Pakistan captain Salman Butt were banned from cricket for five years and handed jail sentences in 2010 after they were found guilty of match-fixing during the Test series against England.
Amir, by far the youngest of the three, received widespread sympathy and he was granted a return to international cricket in 2016 when Najam Sethi, also the current head of PCB, was in charge of cricket affairs in the country. 
In 2020, Amir once again gave birth to controversy after he took sudden retirement from international cricket. In his statement, the cricketer accused the then head coach Misbah and bowling coach Waqar Younis of doing favouritism. 
The pacer had stated that he would take back his retirement only after the departure of Misbah and Waqar. 

In the era of former PCB chairman Ramiz Raja, Misbah and Waqar had to quit their jobs but Amir's expected return couldn't happen due to Raja's tough stance and no-tolerance policy regarding fixers.