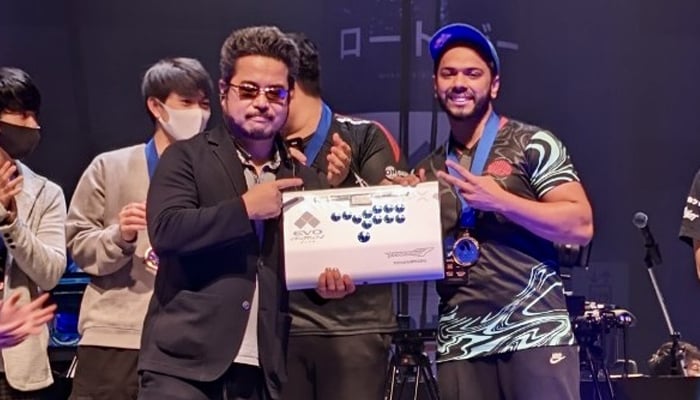 Pakistan's professional fighting game player Arslan Ash has made the country proud once again by winning the Tekken 7 tournament during the EVO Japan 2023.
Arslan (Zafina) eliminated KDF | Meo-IL (Geese) 3-0 in the grand final to win the title.
Earlier, Arslan (Zafina) beat Varrel | Rangchu (Panda) 3-2 in the winners' final and KDF | Meo-IL (Geese) 2-1 in the winners' semi-final.
Tekken 7 — Results
1. FATE | Arslan Ash (Zafina, Kunimitsu)
2. KDF | Meo-IL (Geese)
3. Varrel | Rangchu (Julia, Panda)
4. Watanabe (Eliza)
5. Gken (Josie)
5. UYU | LowHigh (Shaheen, Steve)
7. Mulgold (Claudio, Fahkumram)
7. Saint (Jack-7)
Arslan now has three EVO titles under his belt in Tekken 7, with his previous wins coming in EVO Japan and EVO Championship in 2019.
Yesterday, Arslan had tweeted that EVO Japan is "the hardest tournament ever".
EVO Japan is one of the most prestigious fighting game events of the year. The three-day competition was held between March 31 and April 2 with over 5,000 attendees.
The breakdown of prize money in each game is listed below:
• 1st: ¥1,000,000 (Est. $7529.90 USD)
• 2nd: ¥400,000 (Est. $3011.96 USD)
• 3rd: ¥200,000 (Est. $1505.98 USD)
• 4th: ¥120,000 (Est. $903.59 USD)
• 5th-6th: ¥80,000 (Est. $602.39 USD)
• 7th-8th: ¥60,000 (Est. $451.79 USD)
Twitter Reaction