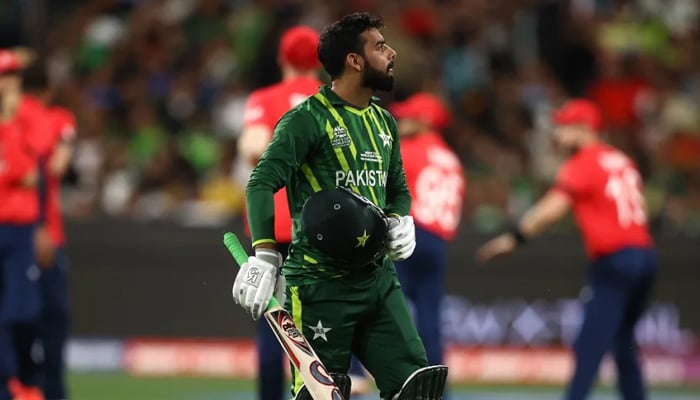 KARACHI: The Pakistan Cricket Board (PCB) is considering replacing all-rounder Shadab Khan as vice-captain of the national side in white-ball cricket.
Shadab, who was appointed vice-captain in 2020, recently led the Pakistan T20I side which lost to Afghanistan 2-1 in a three-match series in Sharjah.
The decision to remove Shadab from the role could be taken before the upcoming limited-overs series between Pakistan and New Zealand, according to sources.
Leg-spinner Usama Mir could also replace Shadab Khan in the Pakistan squad for the New Zealand series, sources added.
It must be noted that the schedule for the series between Pakistan and New Zealand was revised recently due to elections in Punjab.
"The Pakistan Cricket Board and New Zealand Cricket have unanimously agreed to make tweaks to the New Zealand men's cricket team's tour of Pakistan for five ODIs and five T20Is," the PCB stated in a press release on March 20.
"The side will now arrive in Lahore and will play three T20Is from 14-17 April, before traveling to Rawalpindi where the final two T20Is and first ODI will be played from 20-26 April. The tour will culminate in Karachi with the remaining four ODIs to be played from 30 April to 7 May.
"This is an additional tour by the New Zealand cricket team and the matches will count towards ICC Team Rankings. The ODIs will help Pakistan to prepare their side for the ACC Asia Cup and ICC Men's Cricket World Cup 2023, while the T20I will assist the PCB to continue with their rebuilding of the side for the ICC Men's T20 World Cup 2024, which will be held in the USA and West Indies in June/July 2024."
Schedule:
14 Apr - 1st T20I, Lahore
15 Apr – 2nd T20I, Lahore
17 Apr – 3rd T20I, Lahore
20 Apr – 4th T20I, Rawalpindi
24 Apr – 5th T20I, Rawalpindi
26 Apr – 1st ODI, Rawalpindi
30 Apr – 2nd ODI, Karachi
3 May – 3rd ODI, Karachi
5 May – 4th ODI, Karachi
7 May – 5th ODI, Karachi