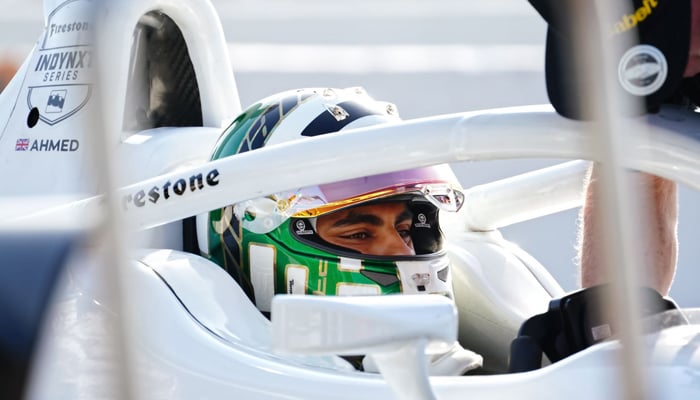 LONDON: British Pakistani formula racer Enaam Ahmed is aiming for the pinnacle of American racing as he sets his eyes on the new season starting within days.
Enaam Ahmed, 23, who proudly carries Pakistani flag all around in the US racing scene, made his debut in the Indy NXT series in the streets of St. Petersburg, Florida earlier this month. Hopes were high as Ahmed had aced the final pre-season testing in Miami, setting the fastest lap time against many experienced drivers.
Indy NXT is the final frontier before the top level of single-seater racing in the United States, the Indycar series featuring the greatest spectacle in racing every May. The Indianapolis 500-mile motor race is known around the world as the Indy 500.
The Indy NXT is a very unique and competitive championship in which drivers race on street circuits, purpose built fast flowing racing tracks and ovals — a very Americana type of non-stop high-speed action.
The Florida sunshine greeted the drivers for a street fight on March 5. Ahmed was fighting for pole in qualifying but a brake issue meant he started on row six. After a quick start he was already moving up the field when he was pushed into the wall by Reece Gold on the opening lap.
The 2023 season is Ahmed's second full year of racing in the United States.
"I really see America right now as growing, and I like the way American people are in racing. They don't care where you come from or what you look like if you're good, they give you opportunity and a chance, which I think is phenomenal," Ahmed said in a statement.
"The way I've been able to pick up sponsors from the U.S. is phenomenal. They don't care where I'm from or anything. If you're good, they support you. I respect Americans a lot. I've never seen that anywhere else," he added.