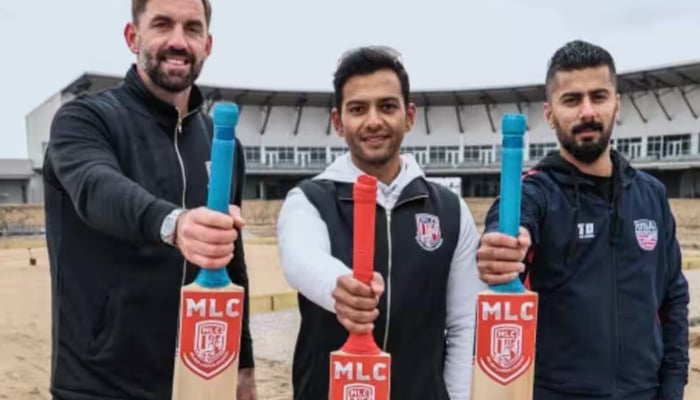 The United States of America (USA) are set to host their first-ever franchise cricket league involving international stars.
Major League Cricket (MLC) will roll into action from July 13-30 in the USA. This is going to be a major step in the promotion of cricket in the country where Baseball and Basketball are the most popular sports. 
With the investment of Indian Premier League (IPL) franchises alongside the USA's technology and media sectors, MLC is said to be bigger and ready to compete among other franchise cricket leagues around the world. 
Reportedly, $120m has been invested in the league which allows teams to keep a handsome salary cap for players. The salary cap per team is understood to be slightly above $1.1m which will help MLC compete with established leagues like Australia's Big Bash, England's and Wales's The Hundred and UAE's ILT20.
Star local and foreign players remained center of attraction in the first phase of players' draft for the inaugural edition of the MLC.
Pakistani players including Sami Aslam, Hammad Azam, Ehsan Adil, Zia Shahzad, Mukhtar Ahmed, Saad Ali, and Saif Badaf, who went to USA in search of cricket career, were also picked in the drafts. 
Hammad and Eshan were picked up by IPL franchise Mumbai Indians in their overseas team MI New York. 
Sami and Zia will play for Texas Super Kings (owned by Chennai Super Kings) and Saif will feature in Bollywood star Sharukh Khan-owned Los Angeles Knight Riders. It is an overseas team of the IPL franchise Kolkata Knight Riders.
Saad and Mukhtar were will represent Washington Freedom in the tournament.
About MLC
MLC will be first-of-its-kind cricket tournament in America. After the USA started investing in cricket, this tournament will pave the way for shaping the sport's future in the country.
It will be a franchise-based tournament that will be played at Grand Prairie Stadium in Grand Prairie, Texas, near Dallas from July 13 to 30.
As many as six franchises are taking part in this tournament. IPL franchise Mumbai Indians bought MI New York team whereas Shahrukh Khan's Kolkata Knight Riders have Los Angeles Knight Riders in MLC. Chennai Super Kings also confirmed their franchise Texas Super Kings in the league. The other franchises include Washington Freedom, San Francisco Unicorns and Seattle Orcas.