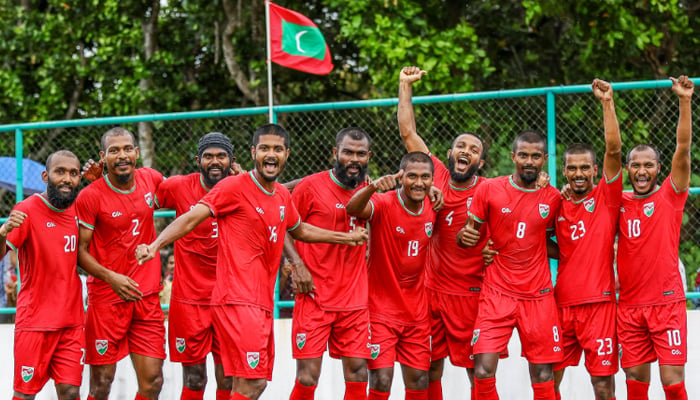 Maldives defeated Pakistan 1-0 in a friendly match at the Laamu Gan Zone Stadium on Tuesday.
Ibrahim Aisam scored from a corner in the 20th minute of the match to give the home side a 1-0 lead.
Pakistan created some chances in the second half but were unable to equalise and eventually lost the match.
Pakistan team is in rebuilding phase following years of infighting among various groups which kept the sport stalled and FIFA suspending the Pakistan Football Federation (PFF) twice since 2017.
This was only the second game which Pakistan played during the last three and a half years. Pakistan returned to international circuit towards the end of the last year when they played a friendly against Nepal.
It must be noted that Pakistan are to feature in the SAFF Cup and World Cup Qualifiers this year.
SAFF Cup, as reported by media citing a tweet of India's football governing body (AIFF), will be hosted by India in June. Previously, it was planned to be conducted by Dhaka.
The World Cup Qualifiers will be held at the end of this year.
Pakistan's football authorities also want to utilise the FIFA window in June for managing some matches with strong nations in order to give enough exposure to the elite squad.
It is highly expected that the team which will play in June's FIFA window will also be used in the SAFF Cup which is expected to be held from June 20 to July 3.