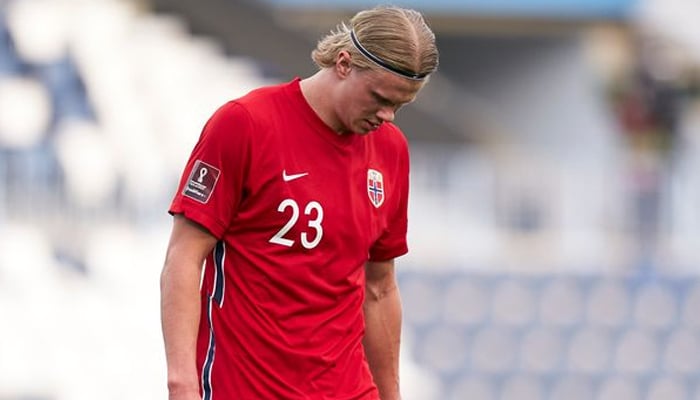 Norway's star striker Erling Haaland has been ruled out of the Euro 2024 qualifiers against Spain and Georgia after suffering a groin injury in Manchester City's FA Cup quarter-final victory against Burnley, the Norwegian Football Federation said on Tuesday.
Haaland, who has notched up 21 goals in 23 appearances for Norway, has been in great form this season, scoring 42 goals for City since arriving from Borussia Dortmund last June.
"After doing tests and examinations yesterday, it became clear that he will not make the matches against Spain and Georgia," national team doctor Ola Sand said. "It is better that he then gets medical follow-up in the club."
Norway are in Group A along with Cyprus, Georgia, Scotland and Spain. They play Spain in Malaga on Saturday before travelling to face Georgia on Tuesday.
"Erling took it hard when he realised that he could not play for the team," national team coach Stale Solbakken said. "Fortunately, there is still plenty of confidence, talent and unity in this group to win points in the next games."
Haaland, who scored a hat-trick against Burnley, has now netted at least a hat-trick in six of his 19 appearances at the Etihad this season.
"Every goal means a lot to me, it doesn't matter, every goal for the team means a lot," Haaland said after the match.
"To win 6-0 today is an amazing thing against a good Burnley side. So I'm really happy and the next game is now at Wembley.
"I'm a striker, I love to score goals! But, my focus is not just scoring goals, but to focus on getting chances, when you get chances then there is a good chance that I will score a goal."
Pep Guardiola's side are now unbeaten in ten matches across all competitions with Haaland stating that the team is peaking at the perfect time in the season.
"I think we're in that part of the season where we should be at our best," he said.
"Now it's where things get decided. We have to perform every single game. The last couple of games has been finals.
"That's exactly what we've been doing. I'm proud and happy. I don't know what more to say.
"It's going to be nice [at Wembley] and we have to go again."