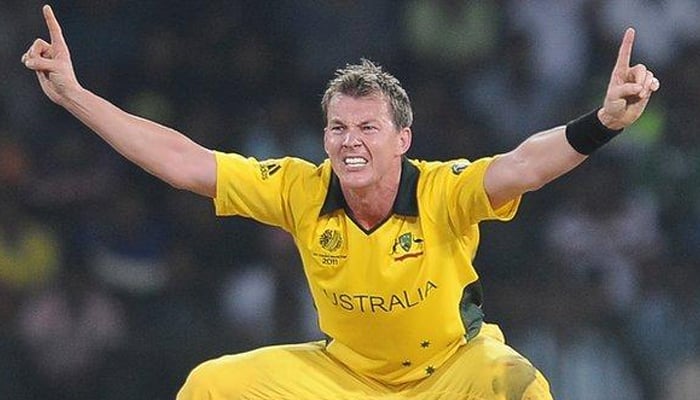 Former Australian pacer Brett Lee has named Babar Azam as his favourite batter from Pakistan.
Speaking during an interview, Lee also said that he is a fan of Azam's cover drive.
"My favourite batsman from Pakistan is Babar Azam, beautiful cover drive," said Lee.
It must be noted that Azam became the fastest player to score 9,000 runs in T20 cricket during the Pakistan Super League (PSL) season eight Eliminator against Islamabad United on Thursday in Lahore.
Before the match, Azam needed 35 runs to achieve the milestone which he did with ease courtesy some splendid shots. The right-hander took only 27 innings to move from 8,000 to 9,000 runs in the shortest format of the game.
Earlier, former Australian cricketer Ricky Ponting stated that Azam's best form with the bat and as a captain is still ahead of him.
"I think Babar's still got a little bit of improvement to come, which is a pretty scary thought with what he's been able to do, pretty much across all three formats over the last three, four years," Ponting had said, after Babar won the Sir Garfield Sobers Trophy for ICC Cricketer of the Year for the first time and ODI Cricketer of the Year for the second straight year.
"I love watching him play. I think there's some room for improvement, let's hope we see it.
"I'm sure with a bit more experience under his belt, like he's done with his batting, I'm sure he'll find the right way to lead and be a very successful captain of Pakistan."
Meanwhile, Azam said that Ponting's comments were a confidence booster for him.
"You get confidence when a legendary player gives you a compliment and you try to be better," Babar told ICC Digital last month.
"When such a huge player passes positive comments, it adds to your confidence and you have it in your mind that such a huge player is talking good about you.
"Because these players have been through a similar stage so they know what mindset I have. They have been through similar scenarios and have knowledge of the game.
"So yes, I try to take these comments in a positive way and try to produce my best."
Lee also picked legendary Pakistan pacer Wasim Akram over Australian bowling great Glenn McGrath.
Akram is Pakistan's most successful fast bowler with 414 Test and 502 one-day international wickets.