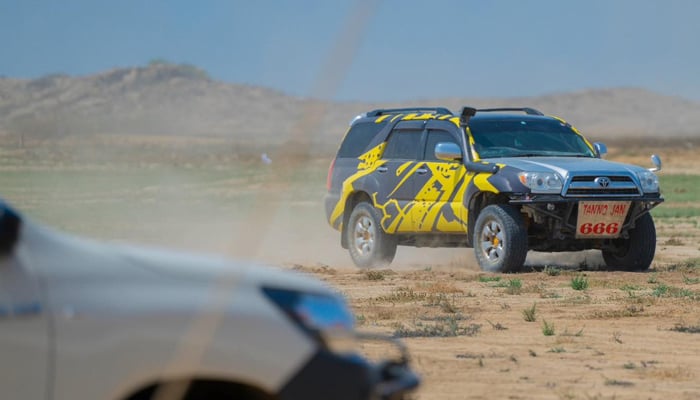 KARACHI: The 10th Hub Rally Cross 2023, which is one of the most challenging rallies of the country, will be conducted at the 30 kilometre Gadani course at Hub, Balochistan, on Sunday (today).
According to organisers 80 drivers and around 60 motorbike riders have confirmed their entries for the rally. All the participants have reached Hub and also held a meeting to decide various matters.
The course also has a seven kilometre coastal lap which makes it more captivating.
Nadir Magsi, Rony Patel, Sahibzada Sultan Mohammad Ali, Nadeem Khan, former chief minister of Balochistan Jam Kamal Khan, Nouman Saranjam, Shiraz Qureshi, Tushna Patel, who will return after two years, her daughter Dina Patel, Maryam Shiraz and Nida Wasti are some of the distinguished drivers who are set to feature in the event which will be contested in Prepared, Stock, Women and Veterans categories.
Sahibzada Sultan Mohammad Ali will defend his title of the Prepared category. Bebark Baloch will defend his crown in Stock, Maham Shiraz Qureshi in women's and Shujaat Sherwani in veterans category.
The country's prominent racer Ronny Patel said that he is very happy to be at Hub for featuring in the 10th Hub Rally.
"I am very happy to be here at Hub Rally. My wife and daughter are also taking part in the rally. This rally is getting bigger and bigger with each passing year," Ronny said.
"Here people come every day and return in the evening. They also do their camping. It's a scenic environment which is beautified by the presence of the sea and its weather is very fine. I hope that in the next three to four years this rally will be counted in the major rallies of the country," Ronny said.
Nadir Magsi, a popular racer, said that it is difficult to maintain speed on a small track, adding it's one of the challenging rallies of the country due to the curved track.
Meanwhile, former Balochistan Chief Minister Jam Kamal Khan, who will also feature in the event, said it seems to be a twisty track.
"I have seen a layout of the track and it seems to me twisty and turney. And it will depend on vehicle"s configuration," Jam Kamal told reporters at Hub.
The competition will begin at 8am. Shujaat Sherwani, CEO Toyota Highway Motors, is the chief organiser of the event.