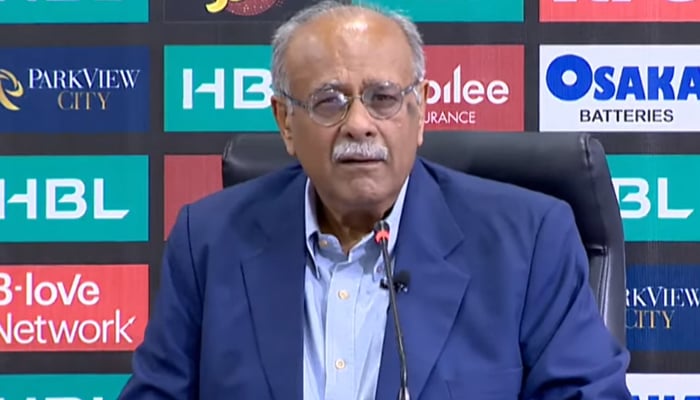 Pakistan Cricket Board (PCB) management committee chairman Najam Sethi shared that they are in talks with concerned authorities to build five-star hotels near stadiums in Karachi and Lahore. 
Sethi held a press conference before the ongoing Pakistan Super League (PSL) season 8 final. During his talk with reporters, Sethi said they plan to build high-class hotels near stadiums to reduce the issues of commuters during matches. 

"Moving on, we will work on uplifting our stadia in Lahore, Karachi, Multan, Rawalpindi, Quetta and Peshawar as I feel we need to enhance the facilities to make them at par with the world. We are also in talks with the relevant authorities in Karachi and government in Lahore to make five-star hotels with the stadiums so the people don't have to face disturbances when the matches are held," he said. 

While elaborating on the success of PSL 8, Sethi credited his team and talked about his personal efforts. 
"Despite all the logistical challenges, we were able to conduct a high-class opening ceremony in Multan. Never before has an opening ceremony being delivered of such great quality. When I took over the affairs, no preparation had been made for the opening ceremony. I personally looked into the affairs and made sure that we continue to build the brand of the PSL through sheer hard work and dedication,
"It took us two months from planning till execution to deliver the PSL, and I have no qualms in claiming that we can deliver the PSL in any part of the world, because of the knowledge and expertise we possess," he highlighted. 
Sethi thanked fans for their all-out support while sharing the details of viewership. 
"The PSL would not have been this successful without the love and support that it has received from the fans. We had turnout of 80 per cent on average and at times, it went to 95 per cent. It is their support that has turned the PSL into a global brand. The new levels of interest and following has seen record ticket sales, record crowd turnout and record digital and TV ratings, which has not happened before," he claimed.
Defending champions Lahore Qalandars took last year's finalists Multan Sultans in the final today.