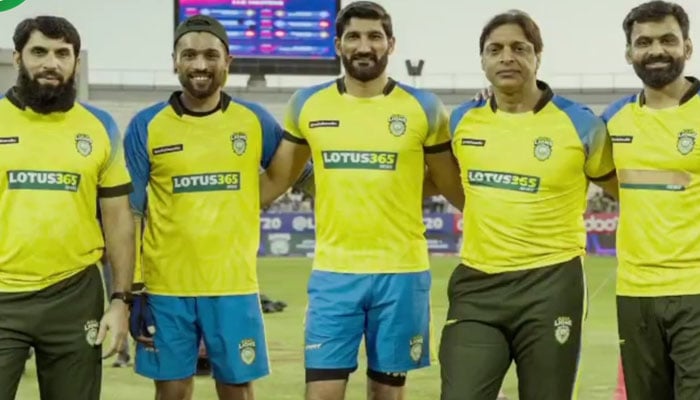 Pakistan's former captain Shahid Afridi highly praised his ex-teammate Misbah-ul-Haq after Mohammad Amir reunited with them in the ongoing Legends League Cricket (LLC) in Qatar. 
Amir, who took retirement from international cricket as a protest against Misbah-led Pakistan team management in 2020, played under his captaincy in Asia Lions during LLC. 
The former fast bowler suffered immense criticism after his picture with Misbah, Afridi and other Pakistani cricketers in Lions' kit went viral. 
To a query about sorting out issues between Misbah and Amir during a local Tv show, Afridi said Misbah has the quality of forgiving. 
"I think sometimes players give statements without realising that at some point they can come across each other," he highlighted. 
"They should avoid giving such statements," said Afridi in reference to Amir's statement in which he blamed Misbah for doing injustice with him in the national team. 
"I would like to give credit to Misbah here. I am not praising him because he is sitting here with me in the show. He has the quality of forgiving which you rarely find in our society," he added. 
Amir alongside Afridi, Sohail Tanvir, Abdul Razzaq, Mohammad Hafeez and Shoaib Akhtar is representing the Lions in LLC. 
About LLC
LLC is a three-team tournament featuring legendary cricketers from across the world. Doha, Qatar is hosting the event.
Pakistan's legendary cricketers including Afridi, Misbah, Mohammad Hafeez, Shoaib Akhtar, Abdul Razzak, Mohammad Amir and Sohail Tanvir will be in action during the tournament.
LLC 2023 will be played from March 10 to 20 in Qatar. It must be noted here that after hosting FIFA World Cup for the first time last year, Qatar are now looking forward to hosting some more mega sports events in the future