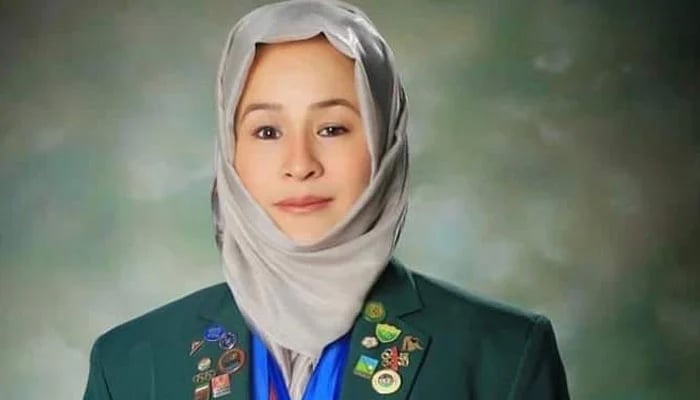 Pakistan hockey player Shahida Raza, who died in a migrant boat crash off Italy's coast in February, was laid to rest in Quetta on Friday.
Shahida's funeral prayers and burial took place after her body was repatriated from Italy.
She was also known as Chintu in her circles and represented Pakistan in hockey at international level. Shahida also played football domestically.
In a bid to secure a better future for her disabled son, Shahida enlisted human smugglers to get her out of Pakistan. She passed away when the boat carrying her and scores of others sank off Italy's coast last month.
According to her friend and former teammate Summaya Kainat, 27-year-old Raza left her home with the aim of eventually reaching Italy or Australia and seeking asylum there.
"She was the sole breadwinner of the family," Kainat told Reuters.
"She told me that as soon as she got a job, she would take her son Hasan away with her," she added.
Hasan, aged 3, was born with a disability that left him unable to speak or move unaided, Kainat added.
Shahida started playing hockey in the national league in 2007 and for years was sponsored by the local departments, Kainat and Baluchistan government officials said.
When the sponsorship ended, Kainat said, Shahida was left jobless in a country suffering its worst economic crisis in decades.
Earlier, Pakistan Hockey Federation (PHF) Vice President Shehla Raza and PH Women Wing Secretary Tanzila Amir Cheema and other people associated with hockey expressed sorrow over her death.
"President of Pakistan Hockey Federation Brigadier R. Khalid Sajjad Khokhar, Secretary General Haider Hussain, Chairperson Women's Hockey Wing Syeda Shehla Raza, GM Women's Wing Tanzeela Amir Cheema has expressed condolences to the family of former international women's hockey player Shahida Raza (Chintu), who died due to an accident and prayed for her forgiveness," the PFF said in a press release.
At least 59 migrants, including Pakistanis, died after their overloaded boat sank early in stormy seas off Italy's southern Calabria region, officials said.
In connection with the incident, two Pakistanis and one Turk were arrested on suspicion of trafficking up to 200 migrants aboard, said the local police.