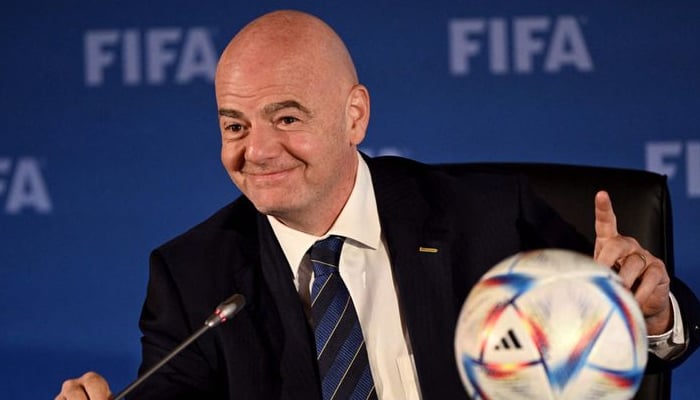 KIGALI: Gianni Infantino has been re-elected as president of FIFA until 2027 after standing unopposed at the congress of world football´s governing body on Thursday.
The 52-year-old Swiss lawyer, who succeeded the disgraced Sepp Blatter in 2016, was waved in for a third term by acclamation, just as he was four years ago, by delegates from the 211 member federations.
"To all those who love me, and I know there are so many, and also those who hate me, I know there are a few: I love you all," Infantino told delegates in the Rwandan capital, where the voting system did not register the number of dissident voices.
While FIFA statutes currently limit a president to a maximum of three four-year terms, Infantino has already prepared the ground to stay until 2031, declaring in December that his first three years at the helm did not count as a full term.
Infantino, who staunchly defended Qatar´s hosting of last year´s World Cup as the Gulf state´s treatment of migrant workers, women and the LGBTQ community came under the spotlight, has overseen the expansion of the men´s and women´s World Cup and huge increases in FIFA revenues.
Norwegian Football Federation president Lise Klaveness had said she would not support Infantino and tabled a proposal to discuss at the congress "FIFA´s responsibilities to remedy human rights abuses" in relation to the Qatar World Cup and future tournaments.
However, Infantino´s mainly European-based opponents were not able to put forward a candidate to stand against the man who was once Michel Platini´s number two at UEFA.
Expanded World Cup
"There is a lot to be looking forward to," Infantino said as he turned thoughts to the next four years and declared the 2026 World Cup, the first edition to be enlarged to 48 teams, will be "the most inclusive World Cup ever".
FIFA announced on Tuesday that the tournament in North America will feature 104 matches, a huge increase from the 64 at the most recent World Cup, as it will start with 12 groups of four teams.
The upcoming women´s World Cup in Australia and New Zealand later this year will be the first to feature 32 teams, up from 24 teams at the last edition in 2019.
Infantino is also planning to introduce a new, expanded Club World Cup to be played every four years starting in 2025 and featuring 32 teams.
"We need more, not fewer, competitions worldwide," he told delegates at the 73rd FIFA Congress.
Infantino has also announced projected income of $11 billion in the four years up to 2026, compared to $7.5 billion in the last four-year cycle ending in 2022.
But he said that figure did not include revenues generated by the Club World Cup, suggesting the final amount of money generated will be even greater.
Those improved financial results allow FIFA to keep on increasing the amount of money it provides in subsidies to federations, in turn helping ensure many of them will continue to back Infantino.
In order to make football "truly global", as Infantino says, at a time when leading European clubs are able to hoard talent and wealth, FIFA distributes money evenly.
And so the likes of Trinidad and Tobago and Papua New Guinea receive the same amount as Brazil, and each has one vote at the congress.
As long as the FIFA president keeps on his side the 35 Central American nations, including numerous Caribbean islands, or the 54 African federations, he need not worry about upsetting the powerful European nations.
That is why failed plans for a biennial World Cup, or the decision to ban rainbow-themed "One Love" armbands promoting LGBTQ rights at the World Cup in Qatar, did not stop Infantino eyeing a new term.
Yet the fractures in football show no sign of healing as long as Infantino´s expansion plans continue.
For example the World Leagues Forum, bringing together 44 leagues worldwide, has complained that FIFA did not consult with them before announcing plans for the new Club World Cup, which will be shoehorned into an "already overloaded" calendar.