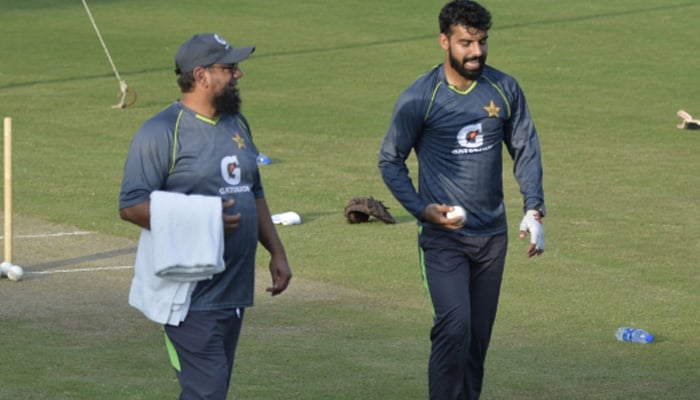 Pakistan's former Test cricketer Saqlain Mushtaq shared how Shadab Khan impressed him before he agreed to give his daughter's hand in marriage to the latter. 
During his interview on a YouTube channel, Saqlain, who recently remained Pakistan's coach for more than a year, highly praised Shadab. 
"Shadab is a very good boy. Two things really impressed me, first was when he sent his parents to my house with a marriage proposal. His mother is so sweet, she spoke with such grace which impressed me a lot. She said she will leave only when I will accept the marriage proposal. I liked the way Shadab asked his parents for finding him someone for marriage," the former cricketer shared.
"Secondly, he offers Namaz [prayers] with punctuality. When I was with the team, I always found him down to earth. He used to call his teammates for prayers by knocking on the door of their rooms. I liked it very much and when his marriage proposal came, then I thought about these things, and Alhumdulillah [by the grace of Allah Almighty] it all happened very quickly," he maintained.
Saqlain said both families agreed on a simple wedding. "Things were finalised within two days after Shadab's family came with their proposal. Engagement ceremony took place followed by Nikkah, and after a week, rukhsati took place. I am very happy and satisfied, Alhumdulillah," he said. 
Shadab tied the knot with the daughter of Saqlain on February 10. In his interview after getting married, Khan said it happened all of a sudden. 
"To be honest, it happened all of a sudden. I was scheduled to travel to Australia but due to injury, I couldn't. Meanwhile, it all happened," he had said.