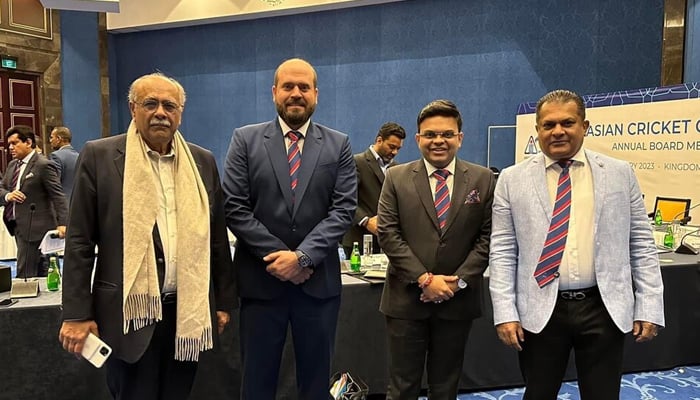 Pakistan Cricket Board (PCB) management committee chairman Najam Sethi shared the latest update on Asia Cup 2023 matter while speaking to the media in Lahore on Monday. 
The future of the Asian event, initially scheduled in September this year, hangs in balance since India refused to travel to Pakistan on political grounds. 
PCB is scheduled to host the Asia Cup 2023 for the first time after 2008. However, India's stance on this matter put Asia Cup's future in danger. 
Since taking charge as PCB's head last year in December, Sethi has been facing the Asia Cup matter. 
On Monday, when Sethi sat for a press conference alongside the national team's chief selector Haroon Rasheed to announce T20I squad against Afghanistan, he was once again asked about Asia Cup's future in Pakistan. 
"The situation is still the same. India will not come to Pakistan for Asia Cup. This is a very difficult and tricky situation which is still unresolved," shared Sethi. 
"There are two different matters, one is of ICC and the other is of ACC. This is not only about Asia Cup because we also have to host the Champions Trophy. I will go and talk with both ICC and ACC on this matter," he added. 
It must be noted here that PCB management committee chairman Sethi alongside COO Salman Naseer and Faisal Hasnain will discuss this issue in ICC meeting, scheduled on March 20 in Dubai. 
Before the all-important meeting with ICC and ACC officials, Sethi sought advice from the federal government. 
"I have approached our government to take their point of view on this matter. If our patron [PM Shehbaz Sharif] asks us to go and play World Cup India regardless of whether they come here to play Asia Cup or not, we will have to consider it," he said.

"So far, our government's point of view is also the same, if India do not come here, we will also not go there in World Cup. I believe that we have more security concerns in India due to the ongoing communal issues there," he highlighted.
"So, we need to keep our government and security agencies in loop while making any decision regarding Asia Cup in Pakistan and World Cup in India," Sethi concluded.
Former PCB chairman Ramiz Raja made bold statements after Indian cricket board secretary Jay Shah — who is also president of the ACC — said that India "can't" send a team to Pakistan, adding the Asia Cup would be moved to a neutral venue.
His announcement last year caught Pakistan by surprise, with the then PCB chairman warning it could "split" the international cricket community.