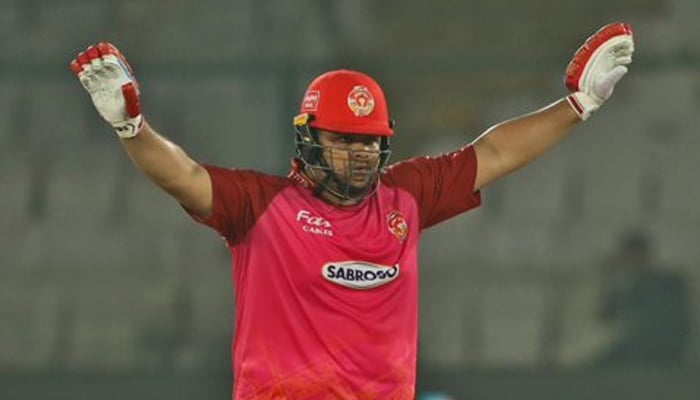 Hard-hitting batter Azam Khan has brushed aside critics who question his weight and fitness.
Azam, who is currently playing for Islamabad United in the Pakistan Super League (PSL) season eight, played a brilliant knock of 97 runs in only 42 balls in a recent match against Quetta Gladiators — a team which is coached by his father and former cricketer Moin Khan.
"I don't listen to criticism because these things continue to happen. I can't run away from this forever which is why I try to answer my critics with the bat," Azam told Geo News in an exclusive interview on Sunday.
"I try to play in accordance with the situation of the match. Everyone knows that I try to hit sixes and I'm glad that I was able to do that against Quetta. My father is also proud of me," he added.
Azam also highlighted the impact of Quetta Gladiators and Islamabad United on his development as a cricketer.
"Quetta Gladiators have played a great role in making me a good player. Meanwhile, Islamabad United placed their trust in me and for that I'm grateful. My performance also improved after joining United," he said.
He was also pleased to see exciting matches in the PSL, so far.
"Ground staff has made some great pitches for PSL. It's nice to see that some thrilling matches are taking place," he concluded.
Schedule of remaining PSL 8 matches
27 Feb - Lahore Qalandars v Islamabad United, Gaddafi Stadium
1 Mar - Peshawar Zalmi v Karachi Kings, Pindi Cricket Stadium
2 Mar - Lahore Qalandars v Quetta Gladiators, Gaddafi Stadium
3 Mar - Islamabad United v Karachi Kings, Pindi Cricket Stadium
4 Mar - Lahore Qalandars v Multan Sultans, Gaddafi Stadium
5 Mar - Islamabad United v Quetta Gladiators, Pindi Cricket Stadium
6 Mar - Quetta Gladiators v Karachi Kings, Pindi Cricket Stadium
7 Mar - Peshawar Zalmi v Lahore Qalandars, Pindi Cricket Stadium; Islamabad United v Multan Sultans, Pindi Cricket Stadium
8 Mar – Pakistan Women's League Exhibition Match 1, Pindi Cricket Stadium; Peshawar Zalmi v Quetta Gladiators, Pindi Cricket Stadium
9 Mar - Islamabad United v Lahore Qalandars, Pindi Cricket Stadium
10 Mar - Pakistan Women's League Exhibition Match 2, Pindi Cricket Stadium; Peshawar Zalmi v Multan Sultans, Pindi Cricket Stadium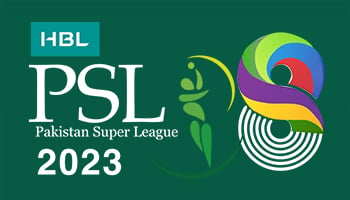 11 Mar - Pakistan Women's League Exhibition Match 3, Pindi Cricket Stadium; Quetta Gladiators v Multan Sultans, Pindi Cricket Stadium
12 Mar - Islamabad United v Peshawar Zalmi, Pindi Cricket Stadium; Lahore Qalandars v Karachi Kings, Gaddafi Stadium
15 Mar - Qualifier (1 v 2), Gaddafi Stadium
16 Mar - Eliminator 1 (3 v 4), Gaddafi Stadium
17 Mar - Eliminator 2 (loser Qualifier v winner Eliminator 1), Gaddafi Stadium
19 Mar – Final, Gaddafi Stadium