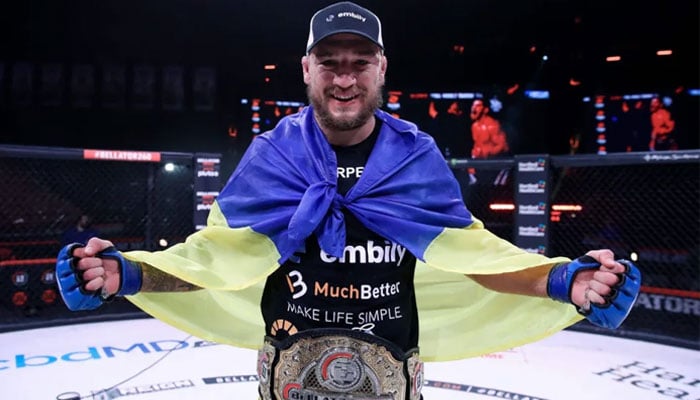 Ukraine's Yaroslav Amosov defeated Logan Storley by a unanimous decision to make a successful comeback to Mixed Martial Arts at Bellator 291 in Dublin.
In his first fight after participating in the Ukrainian army's defence against the Russian invasion, the welterweight champion retained his championship.
Amosov gave a nearly faultless performance while remaining focused and relentless.
Amosov, who dedicated his victory to Ukraine, received a unanimous 50-45 score from the three judges.
Amosov claimed before the bout that he had only returned to fighting to advance peace in Ukraine, and this made him noticeably emotional as he delivered his post-fight address.
"Ukrainian people I love you," Amosov said. "I want to say thank you my Ukrainian army for defence, thank you for helping my country. Please don't forget what's happening [in Ukraine]."
Amosov improved his record as a professional fighter to 27-0, extending the longest active unbeaten streak in MMA and firmly establishing himself as the top welterweight in the world.
A year ago, he rushed to get his family across the border safely before making the 36-hour trip back to his hometown of Irpin to stand up for it.

He cancelled his first championship defence in May of last year to remain in Ukraine, allowing Storley to win the title in his place. Since then, though, family and friends have persuaded him to resume fighting to help bring about peace in that country.
He entered the ring wearing a T-shirt that read "colours of freedom" and featured the colours of the Ukrainian flag, exactly like Oleksandr Usyk did when he faced Anthony Joshua in August of last year.