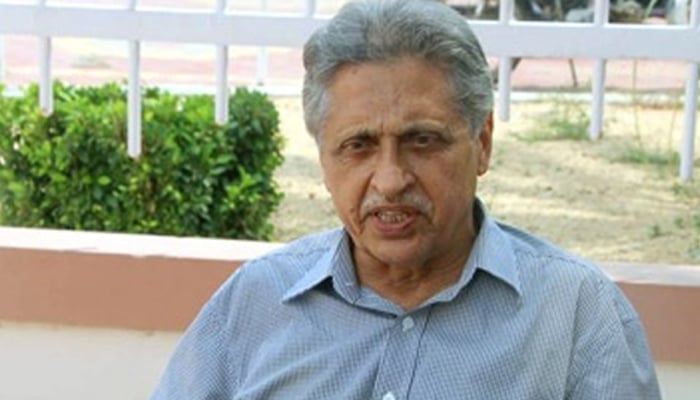 Former hockey player Samiullah Khan is concerned over the lack of hockey at school level in Pakistan.
Despite Pakistan's rich history in hockey, winning multiple Olympic Gold Medals and World Cup titles, the situation of the game in Pakistan has gone from bad to worse over the last couple of decades.
Pakistan failed to qualify for back-to-back Olympic Games, 2016 and 2022, while also missing out on the 2023 World Cup. They also faced the humiliation of missing a World Cup for the first time in their history back in 2014.
"Different sporting activities are being held in schools of Pakistan but hockey is not a part of it," Samiullah said while speaking to reporters in Karachi.
"We started playing hockey in government schools, back in the day, which played a key role in our success.
"Private educational institutes should also come forward for the betterment of Pakistan hockey. Five-a-side and six-a-side hockey should be promoted at college and school level.
"The Pakistan Hockey Federation also needs to step up in order to ensure that the game gets back on track in Pakistan."
Khawaja Junaid banned
It must be noted that the PHF imposed life ban on Olympian and former manager Khawaja Junaid, last month.
The decision was taken by the PHF Inquiry Committee over the blunder of fielding 12 players during an Asia Cup match against Japan last year.
Pakistan failed to qualify for the super four of the Asia Cup, where Junaid was the manager of the national side, which meant that they were not able to qualify for the World Cup.
The Green Shirts lost an important match against Japan during the Asia Cup after one of their goals was disallowed for having 12 players on the field instead of 11.
PHF Legal Advisor Mian Ali Ashfaq also opened up about the verdict of the committee.
"Pakistan faced a lot of embarrassment due to Khawaja Junaid. Due to his misconduct, Pakistan failed to qualify for the World Cup," said Ashfaq.
"The decision to ban him has been taken in line with FIH rules," he added.
He also stated that Junaid didn't appear before the committee to present his point of view.
"Committee had called Junaid to appear before the committee but he didn't oblige," he said. "The decision to ban him has also been approved by PHF president."