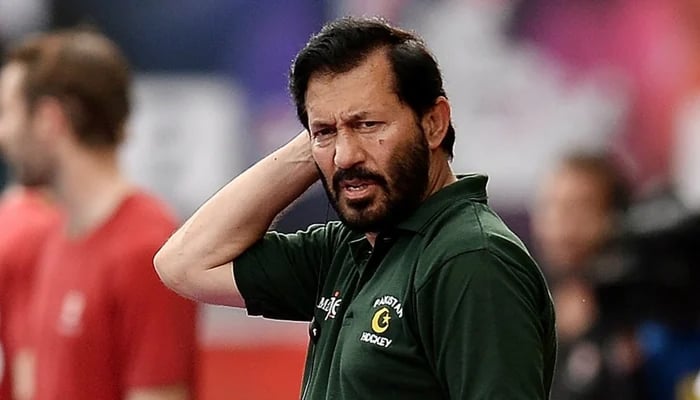 ISLAMABAD: The very first meeting of the Performance Evaluation Committee on hockey affairs was postponed Wednesday following a controversy that erupted after the omission of Khawaja Junaid's name as a member of the body.
The matter has been forwarded to Prime Minister Shehbaz Sharif for the final decision.
Highly-placed sources have told 'The News' that one of the senior members of the committee took a firm stand against the omission of Khawaja Junaid and threatened to boycott such meetings that contradicted the notification issued by PM Office on January 26.
"We will not attend any meeting that contradicts the notification. Unless and until we get a fresh intimation from the patron-in-chief on any such change, we will not attend the meeting," he told the officials of Pakistan Sports Board.
1994 World Cup-winning member Khawaja Junaid was told on telephone Tuesday evening not to travel to Islamabad for the meeting. When other members of the committee were told about the development, one of them refused to attend such meeting that did not have all the members unless a fresh notification issued.
"The PSB had no option to postpone the meeting and refer the case to the PM Office for further guidance," a PSB official said.
"Khawaja Junaid's matter has now been referred to the PM Office. Once we get a fresh order, we would be in a position to convene the meeting. There is no use to hold the meeting at this stage. Once the matter is resolved we would be in a position to start the proceedings," a PSB official told 'The News'.
'The News' has learnt that the PM Office has contacted the members of the committee regarding the issue.
However, the issue still remains ambiguous as who had omitted the name of Khawaja Junaid from the committee members.
The decision regarding Junaid's omission or inclusion is expected to be taken within a few days time after which the dates of the committee's inaugural meeting will be announced.
It must be noted that the Pakistan Hockey Federation (PHF) had imposed life ban on Olympian and former manager Junaid last month.
The decision was taken by the PHF Inquiry Committee on Tuesday over the blunder of fielding 12 players during an Asia Cup match against Japan last year.
Pakistan failed to qualify for the super four of the Asia Cup, where Junaid was the manager of the national side, which meant that they were not able to qualify for the World Cup.
The Green Shirts lost an important match against Japan during the Asia Cup after one of their goals was disallowed for having 12 players on the field instead of 11.
Abdul Mohi Shah is a senior reporter for The News