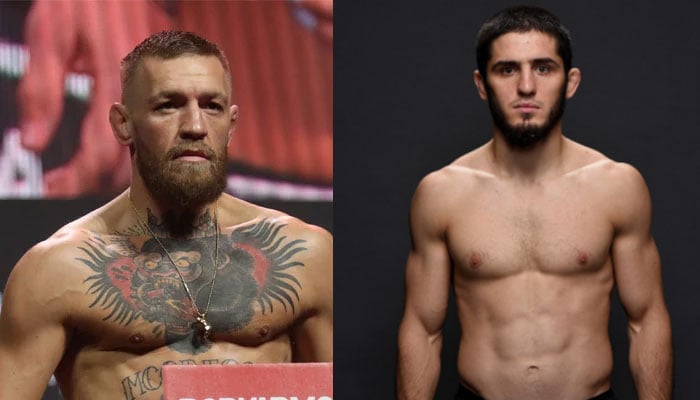 Islam Makhachev has called Conor McGregor "smart" after the Irishman picked Michael Chandler for his UFC comeback fight.

McGregor hasn't fought since losing twice to Dustin Poirier in July 2021 and fracturing his leg during their second encounter.
'The Notorious,' however, has announced that he will face Michael Chandler after an appearance in the UFC coaching series The Ultimate Fighter.
It is anticipated that the Irishman will try to secure a comeback victory to resume competing at the top of the 155 lb class.
Makhachev feels that he could have chosen a far more difficult opponent, such as Beneil Dariush or Justin Gaethje.
"McGregor is smart too," Makhachev said in an interview with UFC legend Daniel Cormier. "He looked at his [Chandler] fight and saw, 'This guy's going to try that, he's short and I can beat him,' and chose the small guy... 100%. I know that. He can choose [Justin] Gaethje, [Charles] Oliveira, [Beneil] Dariush, or someone."
The Russian also stated that if McGregor loses his fourth fight in a row, he might hang up his gloves.
"It's a good fight for the MMA fans, but if Chandler wins, [ Conor McGregor ] is going to retire for sure. Make some good money and that's it... Last four fights, they have the same streak.
"They lose three times. That's why this fight is happening. For Conor, he chose a good way too... Conor everyday retires and every day comes back to Twitter. He [Chandler] fights crazy as he comes from the street. Now I understand why he did this. If he beats [Dustin] Poirier and [Justin] Gaethje, this fight never happens."
Despite his intention to compete at welterweight, McGregor is predicted to make a comeback at 155 pounds.