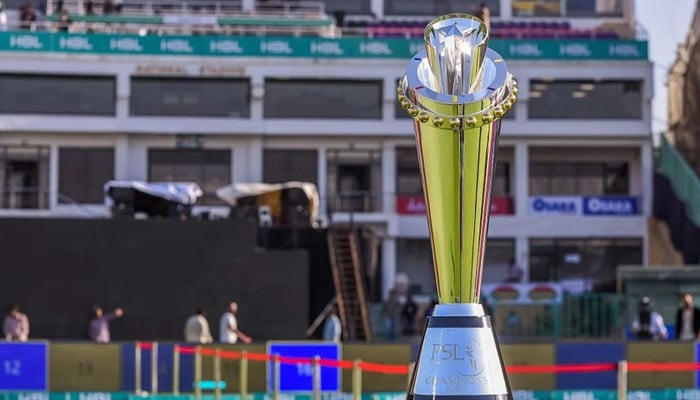 The Pakistan Cricket Board (PCB) is set to unveil Pakistan Super League (PSL) season 8's trophy in Lahore on February 9. 
Reportedly, a new trophy has been prepared for this year's edition. 
Last time, a new PSL trophy was made in 2020 when Ehsan Mani was the PCB chairman. The trophy was used for three seasons in a row. Previously, a new trophy used to be made for every fresh season until 2020. 
Who will perform at the opening ceremony?
PSL season 8 is just around the corner and preparations are in full swing to put up another perfect edition in the league's history.
Multan is going to host PSL's opening ceremony for the first time in history. The mega opener at Multan Cricket Stadium will take place on February 13.
According to sources, Sahir Ali Bagga and Aima Baig will perform in the opening ceremony alongside PSL 8 official anthem singers - Asim Azhar, Shae Gill, and Faris Shafi.
For the first time in PSL's history, Augmented Reality (AR) and Virtual Reality (VR) technology will be used in the opening ceremony. A light show with the help of drones will be set up to amuse cricket fans across the world.
PCB, under the leadership of Najam Sethi, is determined to make this year's PSL bigger and better. In his press conferences after taking charge as PCB head once again, Sethi reiterated that there is a need to revamp PSL as a brand. 
Sethi and his team increased PSL's branding budget from $100,000 to $1 million.