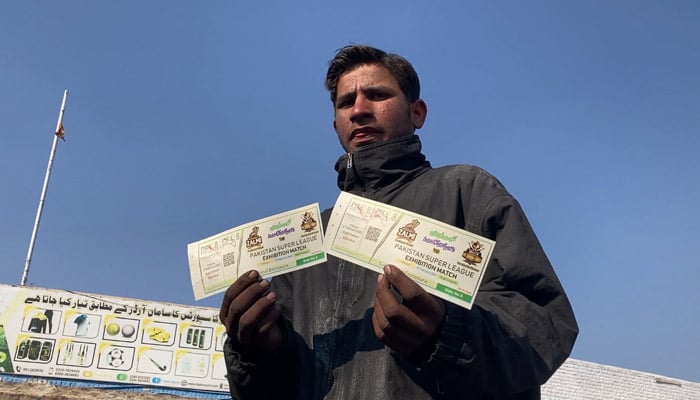 QUETTA: Cricket is not as much popular here as it is in other parts of Pakistan but, the recent announcement of an exhibition match here before Pakistan Super League (PSL) season 8 has united the fans in the heart of country's biggest province, Balochistan. 

Two of the biggest cricket names in Pakistan, Sarfaraz Ahmed and Babar Azam will be leading their teams - Quetta Gladiators and Peshawar Zalmi - in a star-studded show here at Bugti Stadium on February 5. It feels like a festival in the city after so many years as people are still searching for tickets despite the fact that tickets, which were put on sale for just Rs20, were sold out within two days. 
A security official told GeoSuper.tv that fans, in large numbers, have been gathering in front of Bugti Stadium's main gate for last couple of days, asking for tickets. "We are tired of telling them again and again, 'there are no tickets in the stadium'. They are complaining that they didn't know where to get tickets from," he shared. 
"We know they are too excited but they need to understand that there is a certain capacity in the stadium. Not everyone can go inside and watch the match. We are having arguments with them for last couple of days. It's getting tough for us," he lamented. 
The main reason behind this hype is of course the return of competitive cricket to Quetta after 26 years. The city hosted it's last competitive contest back in 1996 when Pakistan played against Zimbabwe in an ODI. 
Star players like Wasim Akram, Shahid Afridi, Aamer Sohail, Saeed Anwar, Grant Flower and Andy Flower featured in last ODI at Quetta's Bugti Stadium. In that match, Wasim became first bowler to take 300 wickets and Pakistan beat Zimbabwe by three wickets. 
Since then, no international cricket took place in Quetta. The capital city of Pakistan's least populous state also failed to host a single Quaid-e-Azam (QeA) Trophy, Pakistan's premier first-class competition, match for 27 straight years between 1977 and 2004. Since 2019, when Quetta returned with hosting rights of QeA Trophy after another gap of 12 years, the city got only four first-class matches to host.
The prime reason behind missing QeA Trophy matches is the extremely cold weather in the city during Pakistan's domestic season that usually runs between August-January. 
Hope of hosting PSL
An exhibition match in Quetta has given a ray of hope to the fans who now see future of PSL matches in their city. 
Due to logistic reasons, Pakistan Cricket Board (PCB) couldn't host PSL matches in Quetta this year but the city remains in the plans for a longer run now. 
A capacity of 15,000-20,000 fans is most likely to be jam-packed on Sunday when Babar XI lock horns with Sarfaraz XI as Quetta roars to let the world hear their noise.