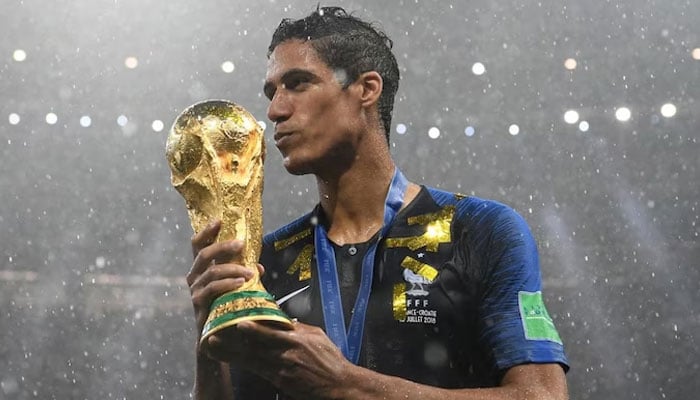 France defender Raphael Varane shocked the football fraternity by announcing retirement from international duty on Thursday.
Varane, who has 93 caps for his nation over the past ten years, played a significant role in helping the Les Bleus win the 2018 World Cup in Russia.
In a statement on Instagram, he said: "Representing our great country for a decade has been one of the greatest honors of my life. Each time I wore this special blue jersey, I felt immense pride.
"The duty to give everything, to play with my heart and to win every time we entered the field. I have been considering this for several months and have decided that it is the right time for me to retire from international football.
"As a child, I remember following France 98, this team, these players who made us experience indescribable emotions. I dreamed of doing like our heroes and, 20 years later, I had one of the best experiences of my life, one that made me really proud."
He added: "We brought the Cup home!! I will never forget him. I still feel every single emotion I felt that day, July 15, 2018. It was one of the greatest and most memorable moments of my life.
"This victory that we won together would never have been possible without the support of Didier Deschamps, of each of the members of the management and our staff during these years, of my teammates who defended our shirt at each of our matches.
"But more importantly, this victory would not have been possible without the support of each of you along this path. Your enthusiasm, the celebrations and the memories of our return to France will remain etched in my mind forever.
"Even after the defeat in the final last year, with certainly a great run, you welcomed us as heroes when we returned. To each and every one of you, a thousand times THANK YOU!
"I will miss these moments with you for sure, but the time has come for the new generation to take over. We have a group of talented young players who are ready to take over, who deserve a chance and who need you."
After Tottenham goalkeeper Hugo Lloris also announced his retirement from international duty last month, his resignation continues to signal the end of an era for the French national team.
The 29-year-old put a halt to France's plans to give him the captain's armband as the successor of Lloris.
Varane called Didier Deschamps a few days later to explain his choice.
He praised Varane as an "intelligent boy" and recalled how, when he was a youngster at Real Madrid, the defender rapidly established himself as a regular for his team.
"Raphael believes that he has reached the end of his adventure with the France team. I experienced a situation somewhat similar to his, I understand his arguments and respect his decision even if it may seem regrettable in view of all that he was able to do with the selection until the World Cup during which he behaved, from start," Deschamps said.