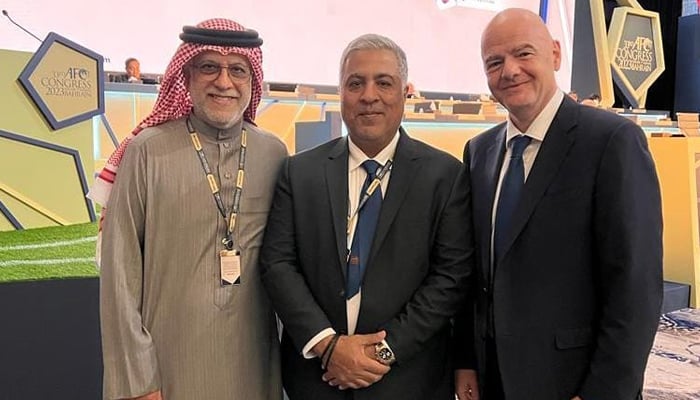 Pakistan Football Federation (PFF) Normalisation Committee (NC) Haroon Malik met the Asian football community on the sidelines of the 33rd Asian Football Confederation (AFC) congress which was held in Bahrain on Wednesday.

Haroon, who was accompanied by NC member Haris Azmat, discussed football matters with the Asian community.

"NC Chairman Haroon Malik and Haris Azmat talked with Asian football community in reference to mutual interest of growth and development of the game," PFF shared in a statement.

In the AFC meeting, Shaikh Salman Bin Ebrahim Al Khalifa was elected the president for a third consecutive time for a four-year term until 2027. The meeting was also attended by FIFA president Gianni Infantino.

PFF NC congratulated Al Khalifa for being elected as the president of AFC. The Pakistan football governing body looks forward to working with AFC closely for development of the sport in the country. 
PFF plans to launch women's league
The head coach of the Pakistan women's football team Adeel Rizki has confirmed that the PFF is working on launching a women's league with the support of FIFA.
Rizki hopes that the league will be instrumental in improving women's football in Pakistan.
"[Before] there was only the national women's championship which was held for a very short period once a year," Rizki told FIFA.com. "Now we are working closely with FIFA to launch the women's league, which could be the game changer for women's football in Pakistan," he added.