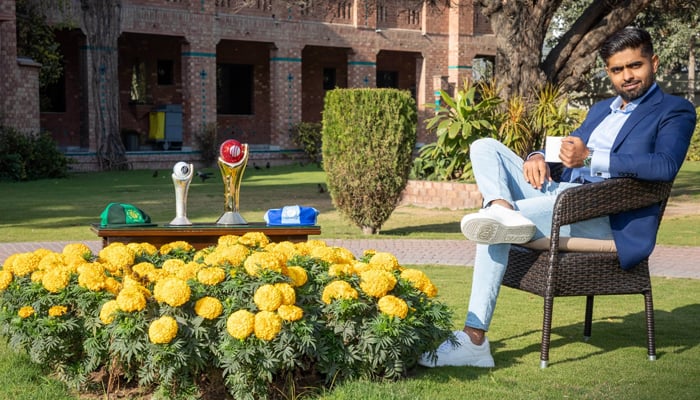 Chairman of the Pakistan Cricket Board (PCB) Management Committee, Najam Sethi, presented the Sir Garfield Sobers Trophy for ICC Men's Cricketer of the Year and ICC Men's ODI Cricketer of the Year trophies to Babar Azam on Wednesday at the Gaddafi Stadium in Lahore.
Azam won the awards last week for performing exceedingly well in 2022.
He scored 2598 runs in 44 matches at an average of 54.12 with eight centuries and 15 half-centuries in 2022.
For the second time in a row, a player from Pakistan has received Sir Garfield Sobers Trophy with Shaheen Afridi winning it last year.
"It's hard to believe that Babar Azam even further elevated his game during 2022 as the inspirational skipper broke more individual records and ensured Pakistan's star continued to shine brightly," the ICC said in a press release.
"Babar was the only player to breach the 2000-run mark during the calendar year across all formats.
"His haul of eight hundreds and 17 fifties during the calendar year was Babar's best of his career to date and there's no doubt the dynamic right-hander is currently at the top of his game."
Azam was also named captain of the ICC ODI Team of the Year for 2022.
It must be noted that Azam was also captain of the ICC ODI Team of the Year in 2021.
Meanwhile, he was named ICC ODI Cricketer of The Year for the second year in a row. Before him, no one from Pakistan had received this award.
The winners of ICC Awards are identified from the results of the ICC Voting Academy, comprising a wider selection of global cricket journalists and broadcasters, with cricket fans also contributing to the vote via the ICC's digital channels.
The Performance Period for the awards was January 1 – December 31, 2022.