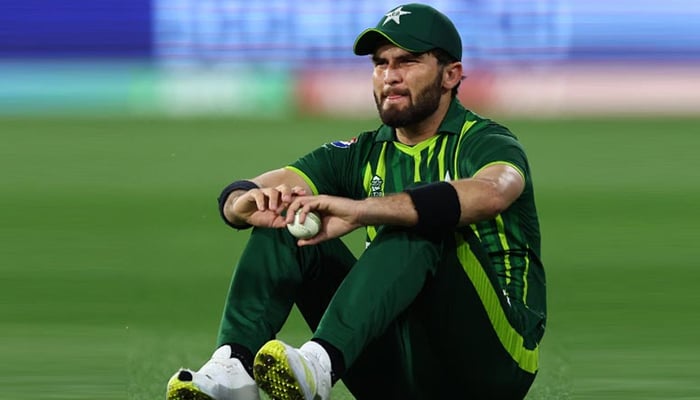 Shaheen Afridi, star pacer and captain of Lahore Qalandars, is eager to step out on the field during the upcoming Pakistan Super League after spending a significant time on the sidelines.
The left-armer has been out of action after suffering a knee injury during the T20 World Cup 2022 final against England on November 13.
"There were times when I wanted to give up," Shaheen, who now has checked all the requisites for his return to competitive cricket, told PCB Digital. "I was working on only one muscle and it was not improving. Often during the rehabilitation sessions, I used to say to myself 'this is enough, I cannot do this anymore'."
"But then I used to watch my bowling on YouTube and see how well I had done and that motivated me and I told myself 'to push a little more' … It is frustrating for a fast bowler to miss cricket because of an injury," he added.
Shaheen's injury had come at a time when Pakistan were scheduled for a historic home season with seven T20Is and three Tests against England followed by two Tests and three One-Day Internationals against New Zealand. The lanky pacer missed all 15 games.
"It is tough when you miss your home games because of the injury," he said. "Before our Test home season, I even missed the seven England T20Is. I was more distressed for missing the Tests, because I like Test cricket more. A bowler is measured on how he performs in Test cricket and I wanted to take wickets against England."
Among players who made their PSL debuts in 2018, Shaheen has the most wickets (70). He is also third on the list of the highest wicket-takers in the tournament history behind Wahab Riaz (103) and Hasan Ali (81), who have played 27 and 14 more matches than him respectively.
"PSL is one of the best leagues in the world and the quality of cricket tests you as a bowler. I am very excited to be making my comeback here and look forward to all the challenges that it will throw at me. Thanks to Almighty, I am doing well. I am ticking both the bowling workload and fitness requirement boxes," he said.
Lahore Qalandars will begin their title defence from February 13 when they take on Multan Sultans in the tournament opener in Multan.