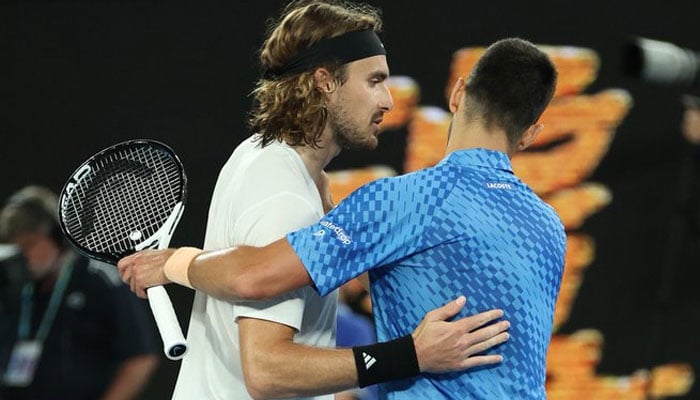 After losing against Novak Djokovic in the Australian Open final at Melbourne Park, Stefanos Tsitsipas called him the 'GOAT'.
Djokovic took the top spot in the global rankings by winning the first Grand Slam title of the year.
Meanwhile, his competitor Rafael Nadal will try to make it 15 victories at Roland Garros in May. He has also won 22 Grand Slam trophies, including 14 French Open titles.
Tsitsipas, who lost to Djokovic in two major finals, chose to honour the Serbian over Nadal and Roger Federer in declaring him the greatest tennis player of all time.

"It speaks for itself, the numbers," said world No.3 after losing to the Serb. "I've had the privilege to play a lot of high-intensity matches. But he's one of the greatest in sport and the greatest who has ever held a tennis racket, for sure. It's been an unbelievable journey for you, I admire what you've done for sport and you make me a better player, so thank you."
With 20 Grand Slam victories and 310 weeks at the top of the world rankings during his career, which ended last year, Roger Federer is also a candidate for the title of "GOAT."
Nadal is 36 years old, and Djokovic is a year younger, so it's unclear how long either athlete will continue to enjoy a fantastic career before calling it quits.
Goran Ivanisevic, Djokovic's coach, believes his star can fight for tennis' top prizes for years to come, and that he is close to matching Margaret Court's record of 24 major victories.
"Definitely two, three more years. The way he's taking care of his body, the way he approach everything, the food, it's amazing. It's unbelievable the level.
"We talking about young guys. They're here, it's great for tennis, great for the future of tennis. But you still have these two guys battling. This was Novak's home court, and now we are going next to Rafa's home court in this handball match of 22-22."