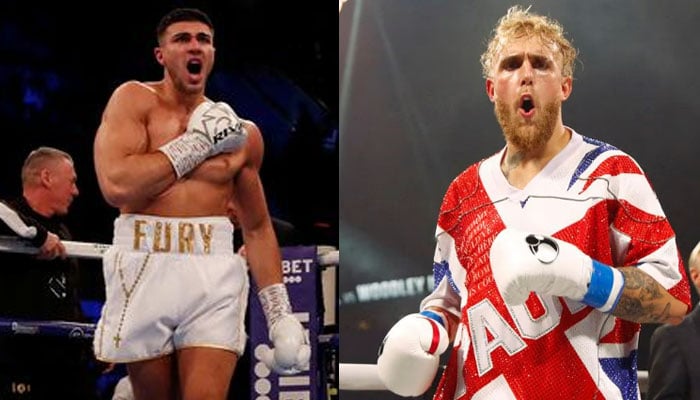 Jake Paul and Tommy Fury will face off each other on February 26 in Saudi Arabia.

The deadly rivals' scheduled fights have been postponed twice, but they are finally due to meet after the two camps approved a grudge match in Riyadh.
The two are scheduled to meet at Wembley Arena before Anthony Yarde's intriguing light-heavyweight matchup against pound-for-pound superstar Artur Beterbiev. 
Paul has announced he will be travelling to London this weekend to confront Fury in the ring.
According to reports, the original date of February 25 was rescheduled to February 26 in order to avoid conflicting with Floyd Mayweather's exhibition match against Aaron Chalmers of Geordie Shore.
As he faces his first professional boxer, Paul, who will soon try his hand in the octagon, will be aiming to keep his perfect record intact. After defeating MMA icon Anderson Silva last year, the American is now 6-0.
In contrast, Fury defeated Daniel Bocianski in his most recent contest, which took place in April of last year. If he loses the fight, his brother Tyson has argued the Love Island star should remain in Saudi Arabia.
Paul tweeted the following after the match's confirmation: "Tommy has no excuses now…Baby's born. Money's massive. Immigration no issue.
"Tyson promises he & Papa will make Tommy retire from boxing & change his last name if he can't beat the YouTuber. Tomorrow I'm coming to London to look at all 3 Fury's in the eye & shake on that promise"
Meanwhile, Fury responded: "Jake Paul's boxing career ends on February 26th and I can finally move on with mine. Every time I go out right now, everybody asks me about the Jake Paul fight.
"After this fight is done, everybody will be asking me how it felt to knock Jake Paul out. The world is about to see what happens when a proper boxer faces a YouTuber."