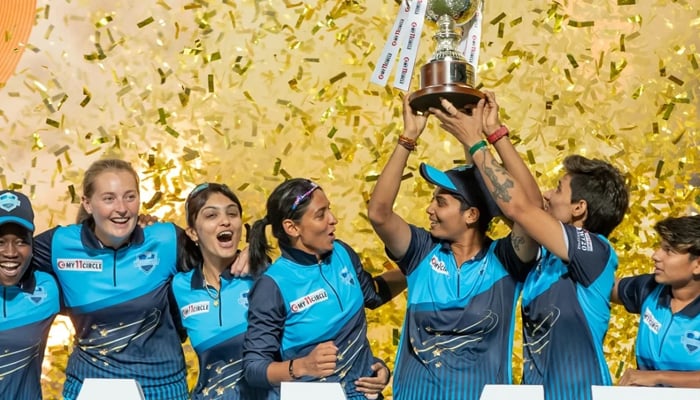 NEW DEHLI: India's cricket board on Wednesday earned $572.5 million as it announced the winners of bids to own five teams in the inaugural Women's Premier League Twenty20 tournament in March.
The women's league will be an addition to the money-spinning Indian Premier League (IPL) men´s tournament for the world´s richest and most influential cricketing body.
"Today is a historic day in cricket as the bidding for teams of inaugural #WPL broke the records of the inaugural men´s IPL in 2008!" Jay Shah, secretary of the Board of Control for Cricket in India (BCCI) tweeted.
Shah said that the board had "garnered" about $572.5 million from five winning bids.
"This marks the beginning of a revolution in women´s cricket and paves the way for a transformative journey ahead not only for our women cricketers but for the entire sports fraternity," he added.
Three of the five women´s league franchises -- Mumbai Indians, Delhi Capitals and Royal Challengers Bangalore -- already own IPL teams.
The other two are Adani Sportsline Pvt. Limited, owned by one of the world´s richest men, Gautam Adani, and Capri Global Holdings Pvt Limited.
The BCCI said that Adani´s firm made the highest bid of approximately $158 million to own the Ahmedabad team, followed by $112 million for Mumbai, $110.4 million for Bengaluru, $99.3 million for Delhi and $92.7 million for Lucknow.
The announcement comes only days after the BCCI announced a windfall of $116.7 million after Viacom18 won the media rights for the first five seasons of the new league.
The BCCI last year also sold the rights for the men´s IPL for $6.2 billion for five seasons and Viacom 18 -- a joint venture between tycoon Mukesh Ambani´s Network 18 conglomerate and the US group Paramount Global -- took the IPL streaming rights for $3.04 billion.
Shah said that the new league would "bring necessary reforms in women´s cricket" and help create a new ecosystem to expand the sport.