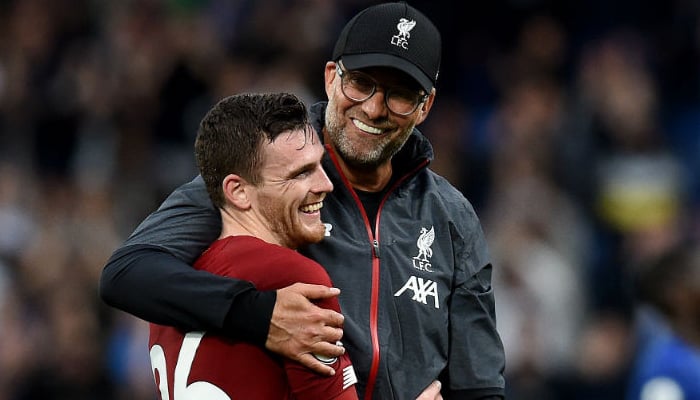 Liverpool left-back Andy Robertson has heaped praise on manager Jurgen Klopp while stating that the latter has been instrumental in getting the best out of his players.
Robertson has played a key role in Liverpool's success since joining the club from Hull City in summer 2017.
"The manager has been unbelievable," Robertson said while speaking on the 'We are Liverpool' podcast. "He has made us all better players, him and his staff.
"Sometimes, when I watch older games – ones from four or five years ago – and look at how I played and how I'm playing now, that's when you see how much you've progressed. That's down to the coaching, the training we've had, and being given the opportunities in the big games. He [Klopp] has been special for this club and he has been special for all of us as well," he added.
Robertson also spoke about his family and said that the values instilled by his mother and father have guided him in life.
"We never had lots and lots of money, but we had a roof over our heads, we had food on our table and sometimes you have to realise how lucky you are," he said.
"People take that for granted. My mum and dad gave me and my brother a fantastic life.
"They always gave to charities, and my aunties and uncles were involved, too. All of us have been brought up with that: you can always help others."
It must be noted that in 2020 Robertson established his own charity, based in Scotland, and his philanthropic efforts also helped him bag an MBE in the recent New Year's Honours list.
He is now keen on passing on those morals to his children, and he wants to ensure his son and daughter remain grounded.
"Me and my missus are very conscious of that… We know that they're in a better position than, say, we were [as kids], in terms of their parents have money and can set them up for life. But they also have to make their own way and have that work ethic. My kids are too young just now, but you can still slowly but surely get them into it.
"They get treats if they behave well all week. That's what we always got; if we behaved well during the week, my mum would always buy us maybe a takeaway on a Saturday night or get us a pack of sweets. That's what we're trying to bring in with the kids."