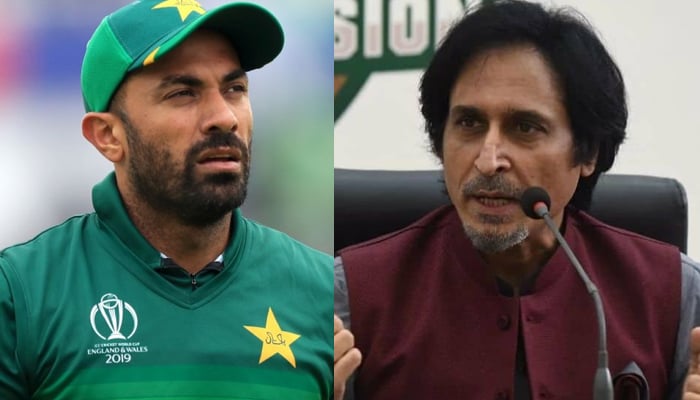 Pakistan's experienced pacer Wahab Riaz opened up on favouritism during the tenure of former PCB Chairman Ramiz Raja when Mohammad Wasim continued as chief selector of national men's team. 
Wahab, who last played an international match in 2020, took a dig at the former chief selector for sidelining senior cricketers despite their performances. 
"Laptop chief selector [Wasim] did the poor selection. He didn't have justification for non-selection of players like Imad Wasim, Shoaib Malik and Sarfaraz Ahmed," he highlighted during an exclusive interview with geosuper.tv.
"Shoaib and Imad performed well in T20 World Cup 2021. Why their performance didn't come on his laptop? Why they were ignored for T20 World Cup 2022 in Australia? What was their fault?" the 37-years-old cricketer asked. 
When Wahab was asked about talking to former PCB chairman Ramiz about this issue, he said he didn't. 
"I know Ramiz Bhai was the last authority. The chief selector was bound to communicate with us but in our culture, you communicate with people who always agree with you. You don't communicate to the people who know how to defend their stance," he mentioned. 
Wahab was dropped from the squad after he picked five wickets in two ODIs and four wickets in three T20Is he played in 2020, when Ehsan Mani was the PCB chairman and Wasim Khan was the CEO. 

'Favouritism'
Wahab reiterated that there must be a limit to favouritism. 
"There must be a limit to favouritism. It's not right to sideline players calling them over-aged. If age is important, then the rule must be the same for everyone," the veteran pacer highlighted. 
"Take the example of Misbah Bhai, who performed for Pakistan at 40+ age. I think the peak of any cricketer starts after the age of 30. There are a lot of other examples too. Rohit Sharma, Virat Kohli and Faf Du Plessis, all are 30+, but performing for their teams. In my opinion, age must not be the criteria. If any senior player is worthy for the team, he should be selected regardless of age," he maintained. 
National team Comeback
Following his recent form in Bangladesh Premier League (BPL) 2023, Wahab eyes a comeback in the national side. 
"There have been a lot of highs and lows in my career but I always try to believe in my hard work and skills," said Wahab who completed his 400 T20 wickets during this year's BPL. 
Wahab became the only second pacer in T20 history to take 400 wickets. The first pacer was Dwayne Bravo of West Indies. 
"My job is to perform and make my case stronger. Obviously, it's World Cup year and I really want to represent Pakistan once again," added Wahab who had already stated that he will decide his future after this year's mega 50-over format event. 
NCA training
Wahab revealed that he was allowed to train at the National Cricket Academy (NCA) in Lahore without any hindrance. 
"I won't lie here, Nadem Khan [ex-Director High-Performance Center] allowed me to train in NCA every time. Yes, Amir and some other players, who didn't play for Pakistan during the last two years, weren't allowed. But, I always trained there and utilised all their facilities," he shared. 
Najam Sethi's arrival 
Wahab sees Najam Sethi's arrival as positive for the betterment of cricket in the country. 
"Najam Sethi's arrival is good for cricket. I hope he does justice with players like me, Sarfaraz, Hafeez, Malik and Hassan Ali who have performed well for Pakistan," he concluded.